Estimated read time: 1-2 minutes
This archived news story is available only for your personal, non-commercial use. Information in the story may be outdated or superseded by additional information. Reading or replaying the story in its archived form does not constitute a republication of the story.
Tonya Papanikolas ReportingHundreds of evacuees at Camp Williams are still trying to figure out what their next move is going to be. Some may soon relocate to other cities, while others are starting to get set up with homes here.
Camp Williams and organizations across the state are certainly providing for the evacuees, but as the days pass, more and more evacuees are starting to figure out what they'll do next.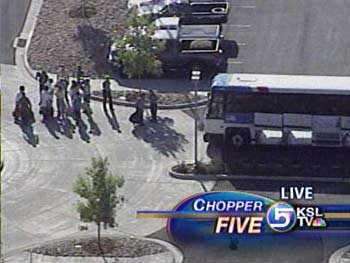 Jerry Cramer, Evacuee: "I'm ready to go out of here, I know that. I mean, it's a nice place, but it's, you know, I'm standing in the soup line. That's not the way I like to live, you know. I'd rather be with my family."
Jerry Cramer is getting ready to go to Dallas where he has family. He's one of about 250 evacuees who've expressed interest in relocating to another city. People who want to leave are getting vouchers for the bus rides.
Meanwhile, for those who still don't know what they're going to do, Camp Williams has a community center where evacuees have access to phones and internet use. They also have TV's to watch and a lot of books and games for people.
Some evacuees spent their time looking up jobs. We spoke to one woman whose extended family had all made a decision.
Tayuger Penn, Evacuee: "We all found houses, so we're not going nowhere. Utah is our home now."
People who are going to relocate will be taking Greyhound buses, which may come as early as tonight. The Department of Workforce Services will be giving them some relocation funds.
We're told evacuees are going out to 27 different states and Canada.
×
Most recent Utah stories