Estimated read time: 2-3 minutes
This archived news story is available only for your personal, non-commercial use. Information in the story may be outdated or superseded by additional information. Reading or replaying the story in its archived form does not constitute a republication of the story.
Jed Boal ReportingIn spite of plenty of June rain, flood danger has dropped statewide and the end is near. More high elevation snowpack will melt off, but the chance of flood damage is fading.
All Utah flood watches and warnings have expired. Many rivers, like the Cottonwoods, are still roaring and may rise this week with a last gasp of high mountain snowmelt. But the risk we faced a few weeks ago is gone.
Utah rivers still run high for mid-June, but most did not breach their banks this spring and most communities dodged damaging flood.
Randy Julander, Utah Snow Survey: "We're really on the downhill side of things right now, and lucky to be there."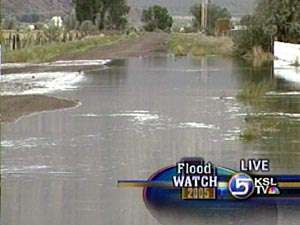 A torrential rain could flood a few waterways, but that's less likely with most waterways well past peak flows. State emergency managers estimate 2.3 million dollars of damage statewide over six to eight weeks. FEMA will visit and assess damage, and the state will decide whether to seek federal disaster assistance
People living near the Sevier River in Garfield County have been swamped for a month and it will remain that way a few more weeks. The Cache Valley weathered dicey days with floodwater pouring into a handful of homes and washing over roads. In Southern Utah flood waters peaked without community-wide problems.
Randy Julander, Utah Snow Survey: "Extremely fortunate in this particular sense. I wouldn't have believed that we would have made it through in the kind of shape we did."
So how were we able to escape widespread flooding? We have good engineering over the past couple of decades, good preparation this year, and phenomenal volunteerism in the communities that needed it to thank. Plus, we got lucky weather-wise.
Randy Julander: "We've had high flows and flooding across a major portion of the state, but we haven't seen huge disasters occur."
Snow still piled in the high country will melt-off with heating this week, but only the Sevier is likely to go above flood stage. Another surprise as we finish up flood season, nearly all of the state's reservoirs filled this year. Those that did not got a helpful recharge.
×
Most recent News stories