Estimated read time: 2-3 minutes
This archived news story is available only for your personal, non-commercial use. Information in the story may be outdated or superseded by additional information. Reading or replaying the story in its archived form does not constitute a republication of the story.
Amanda Butterfield reporting Folks in Pleasant Grove are scrambling to fill more sandbags and to set up concrete barriers to control the water flow there. The good news is the water coming down isn't nearly as bad as they anticipated.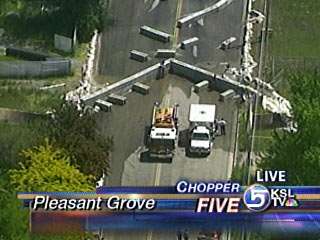 Since Friday residents have been working on a make-shift canal. The canal steers the water down 5th North, eventually dumping it in a canal at the end of the road. The heaviest water flow is at night, around 9 or ten.
Besides sandbags, sheets of plastic are being used at the top of the hill to direct the water flow. Also, concrete slabs have been installed to make an easier route for the water. Crews are about 2/3 done with their work.
The mayor of Pleasant Grove says part of the problem is with all the new developments in town. The issue of drains was never addressed. However, he says he thinks they have it under control.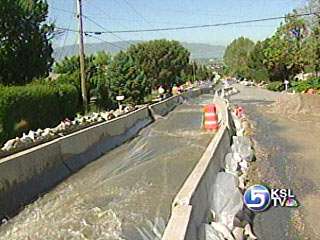 Jim Danklef, Mayor of Pleasant Grove: "We're continuing to construct this, as you might call it, canal, to run excess water off to send it down to the canal so that we don't flood homes."
In Highland crews were out overnight trying to keep the American fork River in its banks.
Sunday, a catch basin started overflowing so emergency crews quickly began sandbagging its banks.
There has been no major flooding yet, but heavy machinery was out until early this morning, moving rocks to keep water off roads and golf courses.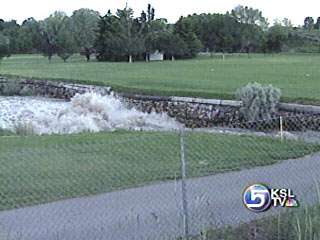 The part of the river causing concerns runs through Alpine Country Club and Cedar Hills Golf Club -- it's just west of American Fork Canyon entrance.
Trevor Olsen: "Tonight and tomorrow are supposed to be bad. Hopefully we can get that all cleared out before tonight or we'll be in a world of trouble."
Both cities have been working hard, but they know it's not over yet. The worst runoff will be in the days to come; they say they'll be prepared.
×
Most recent News stories