Estimated read time: 2-3 minutes
This archived news story is available only for your personal, non-commercial use. Information in the story may be outdated or superseded by additional information. Reading or replaying the story in its archived form does not constitute a republication of the story.
Amanda Butterfield reporting The Sevier River is leaving its banks ...and moving closer to homes!
"If you live by a river you have to expect this sometimes.. just the way it is."
The skies may be clear and the air outside may feel warm, but calm spring weather isn't bringing any comfort to folks in southern Utah. In fact higher temperatures mean more melting snow will come sliding down the mountains. And that means more flooding and more damage for parts of Utah.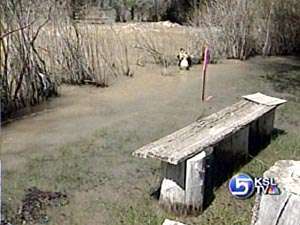 It's a great morning here. But if you live near a river or stream, warmer temperatures equal potential flooding, which some people in southern Utah are already experiencing.
The Sevier River is still rising. Waters are washing over farmers' fields and threatening to damage irrigation diversions.
The town of Hatch is not in any danger, but what's known as "old town Hatch" is finding itself closer and closer to the Sevier River. By the end of the weekend, the river is expected to rise another foot and a half-- its highest level in recorded history!
One road has already been washed out. Now crews are bringing in loads of dirt to protect others.
People in Garfield County are working overtime, scrambling with sandbags to keep water out of their homes. Some residents could be considered "flood veterans". Everett Johnson says this is the third time in 30 years the river has threatened his home.
Everett Johnson/Home In Danger: "I lived here in '83, '93 was the second to the biggest, and this year I think will be the biggest."
The Johnsons say they're grateful they've had so many neighbors willing to help out. And they'll need it. Sevier River will likely continue to rise all weekend, and could reach its peak as early as Sunday.
River levels all depend on how much snow melts and gushes down the mountains.
×
Most recent News stories