Estimated read time: 3-4 minutes
This archived news story is available only for your personal, non-commercial use. Information in the story may be outdated or superseded by additional information. Reading or replaying the story in its archived form does not constitute a republication of the story.
Dr. Kim Mulvihill ReportingIn Colombo, Sri Lanka's seaside capital spared of the tsunami's wrath, life appears normal, until you look up. White banners are everywhere, strung across streets they're traditional signs of mourning.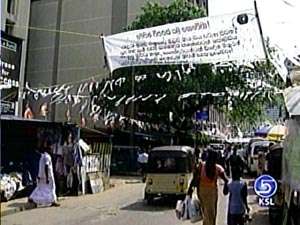 All of Sri Lanka's ethnic and religious groups are united in grief. Even the well off, usually isolated from calamities that face the poor, along the coast are impacted.
Nuala Thevasthasan, Sri Lankan Christian: "We never imagined that lives had been taken and the whole east coast and the north had been completely ruined, as well as surprisingly the south."
There is a somewhat unexpected story emerging out of Sri Lanka. The disaster has actually helped calm a 20-year civil war.
The civil war has pitted the majority Sinhalese ethnic group against the minority Tamils. The Tamil tigers are fighting for independence for the Tamil people. The tigers called, terrorists by Washington, control a chunk of northern Sri Lanka.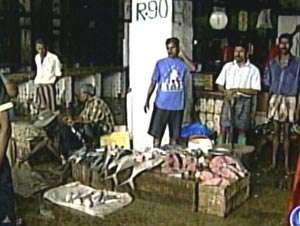 But over the last two weeks, the government and the tigers have been working together to bring relief to Tamil areas. That has sparked hopes of permanent peace agreement.
All of Sri Lanka's people-- the Buddhists, Hindus, Muslims and Christians-- find themselves brought together by this disaster. There is also one particular fear they all now share. Millions of Sri Lankans have stopped eating a main staple of their diet--fish.
We visited the busiest fish market in Colombo. Today it's easy to walk around. On a normal day it would be hard, the place would be jammed packed with customers. But now the customers just aren't coming.
Mohammed Rashid, Lives in Colombo: "People are reluctant to eat fish because they feel the fish would have eaten the corpses that are floating in the sea."
Sales are down some 90 percent. It's another hit for the fishing industry decimated by the tsunami. So fishermen are putting today's catch on ice, to sell later on.
Neil Jayasekera, a Bay Area doctor helping the relief effort, says the fish fear is unfounded. "I don't think there is any medical concern."
Tell that to Milton Gunaratne, a retired engineer who lived 40 years in California.
Milton Gunaratne: "I think no only here in Sri Lanka, all over the east in Asia, people are more superstitious than in western countries…I don't eat fish because I have the same feeling other people have, could be contaminated."
Sri Lanka needs years, if not a generation, to recover from the physical and emotional scars. But the country is slowly emerging from a collective state of shock and daring to look ahead.
Paanama thandarathana is a Buddhist monk from a village on the hard hit east coast.
Ven. Paanama Thandarathana, Buddist Monk: "This disaster has struck regardless of race or cast or village. That is what people should learn from this, we should work to rebuild in the same spirit."
At the Gangaramaya Buddhist temple in Colombo a mural depicts the eight vicissitudes of life. The first two are gain and loss, a philosophy that will help see them through.
×
Most recent News stories