Estimated read time: 2-3 minutes
This archived news story is available only for your personal, non-commercial use. Information in the story may be outdated or superseded by additional information. Reading or replaying the story in its archived form does not constitute a republication of the story.
Dr. Kim Mulvihill ReportingTsunami survivors are beginning to pick up their lives and move on. Dr. Kim Mulvihill is just back from the disaster zone and is here to show us the particular kinds of help survivors still need.
I was in the remote eastern part of Sri Lanka last week, in and around the town of Pottuvil. In the beach hut I slept in, I woke up to what turned out to be a remarkable sound – the first signs of progress.
In the days after the tsunami villagers burned bodies of the dead. Now they're burning mountains of debris, and using donated tools to clean up.
Sivaji De Zoysa, Sri Lankan Businessman: "We woke up this morning and they've already started which is very encouraging. Hopefully by the end of the day it's going to look a lot better and it will lift the spirits of everybody around here."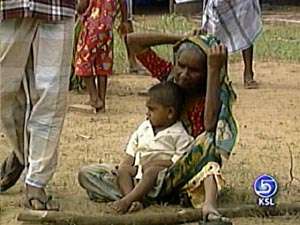 Sivaji De Zoysa is part of the Sri Lankan elite. A wealthy businessman from the capital, he and his associates formed a relief group. They left comfortable lives to help their poor countrymen rebuild.
Sivaji De Zoysa: "We picked this area because it was the hardest to get to and we thought, we're going to work in it personally."
People who lost their homes are settling into refugee camps.
One camp we visited just opened and they're busy building a new hut. By nightfall, a family of 10 will call the place home. Three other families are set to join them soon.
Nadim, his wife and two kids survived the waves. Their house washed away.
Nadim: Q- Do you have anything from home? "No nothing. I also sleeping on cardboard, you know, carton."
Not only uncomfortable, but unhealthy. The camp's well is contaminated and there are only two toilets for 500 people. With so many people crammed into small places the big worry is disease.
I spent an afternoon in a medical clinic set up by some California doctors with the group Relief International. Most of the problems I saw stemmed from people living in crowded conditions: scabies, upper respiratory tract infections, and psychological problems.
But there is some good news in all this. One doctor who is a veteran of many world disasters told me he's optimistic because the relief effort has been better coordinated than most he's seen.
×
Most recent News stories