Estimated read time: 6-7 minutes
This archived news story is available only for your personal, non-commercial use. Information in the story may be outdated or superseded by additional information. Reading or replaying the story in its archived form does not constitute a republication of the story.
BANDA ACEH, Indonesia (AP) -- Thousands of bodies lay rotting and unidentified on lawns and streets of battered Sumatra island Wednesday and authorities called out bulldozers to dig mass graves, as the number killed in a mammoth earthquake and tsunami soared above 58,000 with tens of thousands still missing. The U.N. health agency warned that disease could double the toll yet again.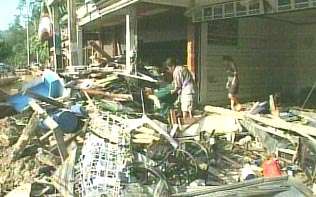 Across a dozen countries, millions of people whose homes were swept away or wrecked by raging walls of water Sunday struggled to find shelter.
"My mother, no word! My sisters, brothers, aunt, uncle, grandmother, no word!" yelled a woman at a makeshift morgue in Lhokseumawe, Indonesia. "Where are they? Where are they? I don't know where to start looking."
Along India's southeastern coast, hospital teams stood by to help the injured, but three days after the disaster still spent most of their time tabulating the dead as ambulances hauled in more bodies. A French cultural center in Thailand's capital provided clothes and food for tourist families left with nothing when the sea battered southern beach resorts.
One of the most dramatic illustrations of nature's force came to light Tuesday when reporters reached the scene of a Sri Lankan train carrying beachgoers that was swept into a marsh by a wall of water Sunday, killing at least 802. Eight rust-colored cars lay in deep pools of water in a ravaged palm grove, torn off wheels and baggage scattered among the twisted rails.
"Is this the fate that we had planned for? My darling, you were the only hope for me," a young man cried for one of the train victims -- his university sweetheart -- as Buddhist monks prayed nearby.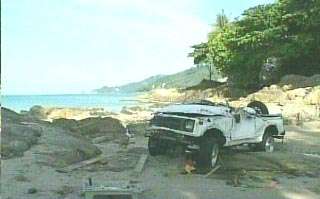 Indonesia's Health Ministry said in a statement early Wednesday that thousands more bodies had been recovered, raising to more than 30,000 the number of confirmed deaths in parts of Sumatra island, the territory closest to the epicenter of the quake that sent tsunami waves rolling across the Indian Ocean. The count did not include a report of thousands more dead in the region around one coastal city.
Sri Lanka listed 21,700 people dead, India 4,400 and Thailand 1,500, with the toll expected to rise. A total of more than 300 were killed in Malaysia, Myanmar, Bangladesh, the Maldives, Somalia, Tanzania, Seychelles and Kenya.
Officials had not yet counted the dead in two zones that suffered the brunt of both the earthquake and the tsunami that followed: the west coast of Sumatra and India's remote Andaman and Nicobar archipelagos just north of Sumatra.
Purnomo Sidik, national disaster director at Indonesia's Social Affairs Ministry, said 10,000 people had been reported killed in and around Meulaboh, a poor Sumatran town where most people are fishermen or workers on palm oil plantations. In India, police said 8,000 people were missing and feared dead on the two island chains.
Television footage from overflights of Meulaboh and other parts of Sumatra's west coast showed thousands of homes underwater. Refugees fleeing the coast described surviving on little more than coconuts before reaching Banda Aceh, the capital of Aceh province on Sumatra's northern tip, which itself was largely flattened by the quake.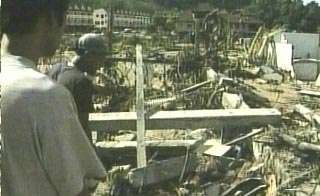 "The sea was full of bodies," said one refugee, Sukardi Kasdi, who sailed a small boat to Banda Aceh to seek help for his family in Surang.
He said his family had nothing to eat but coconuts. "I don't know how long everyone else will survive," he said.
With aid not arriving quickly enough, desperate people in Meulaboh and other towns in Aceh were stealing whatever food they could find, officials said.
"People are looting, but not because they are evil, but they are hungry," said Red Cross official Irman Rachmat in Banda Aceh.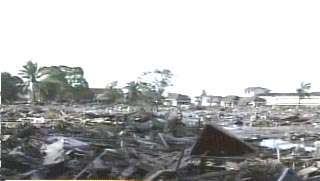 Bulldozers stood ready Wednesday in Banda Aceh to bury the thousands of dead bodies that littered the streets and lined the front lawns of government offices. With the threat of disease on the rise and few ways to identify the dead, officials said they had no choice to but start burying them in mass graves, said Col. Achmad Yani Basuki. "We will start digging the mass graves today," he said.
Sjafrie Sjamsoeddin, a military spokesman, said that naval ships were headed for the west coast with tons of food, water and medicine. He also said the convoy would include a portable hospital.
"We have very sketchy information about how many died there and the extent of the devastation. We're having extraordinary problems communicating there," Sjamsoeddin said.
The flooding uprooted land mines in Sri Lanka -- torn for years by a civil war -- threatening to kill or maim aid workers and survivors attempting to return to what's left of their homes.
Aid groups struggled to mount what they described as the largest relief operation the world has ever seen, and to head off the threat of cholera and malaria epidemics that could break out where water supplies are polluted with bodies and debris.
Dr. David Nabarro, head of crisis operations for the World Health Organization, warned that disease could take as many lives as Sunday's devastation.
"The initial terror associated with the tsunamis and the earthquake itself may be dwarfed by the longer term suffering of the affected communities," he told reporters at the U.N. agency's offices in Geneva.
A government official in India said Sunday's devastation had overwhelmed authorities, who were only now getting relief operations under control and starting to address health concerns.
"It was all sudden and unexpected. There were just too many bodies to recover," Veera Shanmuga Moni said. "Now that we are close to finishing that job, we will now take care of sanitation and supply of clean water."
The United States, Japan, Australia and other nations pledged millions of dollars to help the relief effort, and some sent military transport planes and helicopters to carry medical teams and emergency supplies.
In southern Thailand's Phang Nga province, where resorts had been packed with thousands of tourists from Europe and elsewhere when the tsunami hit, soldiers and volunteers were still finding bodies lying bloated and rotting in the tropical sun.
Survivors lined up at airports to leave the country, many without relatives or lovers they had come with.
"I saw many kids perish. I saw parents trying to hold them but it was impossible. It was hell," said Karl Kalteka of Munich, Germany, who lost his girlfriend in the torrent.
Amid the devastation, however, there were miraculous stories of survival. In Malaysia, a 20-day-old baby was found alive on a floating mattress and was reunited with her family.
In Thailand, 2-year-old Hannes Bergstroem, who was found dazed and alone after the waves hit, was claimed by an uncle after his photograph was posted on the Internet.
The Swedish newspaper Aftonbladet reported that the boy's mother and grandmother were missing, but later media reports said he was reunited with his grandmother. His father and grandfather were believed to be in another hospital in Thailand, but their exact location and conditions were not immediately known.
A U.N. agency has said that one-third of the disaster's victims were children.
(Copyright 2004 by The Associated Press. All Rights Reserved.)
×
Most recent News stories