Estimated read time: 2-3 minutes
This archived news story is available only for your personal, non-commercial use. Information in the story may be outdated or superseded by additional information. Reading or replaying the story in its archived form does not constitute a republication of the story.
Amanda Butterfield Reporting"I believe it's given the family closure; it's given me some closure." The officer who found the remains of Lori Hackings body describes her funeral. The body of Lori Hacking was laid to rest in a private ceremony this morning. Only family, a few of Lori's friends, and officers attended.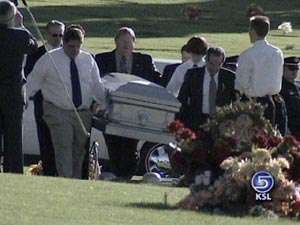 A friend close to the family says their prayers have been answered, and now Lori is home. When the Soares family arrived, there were tears, hugs, and heartfelt thank you's for all the support given in the past three months since Lori disappeared.
When the hearse arrived with Lori's remains inside it was Lori's father Herald and her only brother, Paul at the lead. The service began with Paul thanking all the officers who volunteered their time to search for Lori day after day in the Salt Lake County landfill: "You will always be our heroes', he told them, "thank you".
Then Lori's mother Thelma spotted the officer who found Lori's remains and thanked him personally.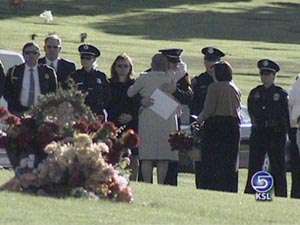 J.R. Nelson, Volunteer Searcher: "To have someone come up to me, and thank me, was gratifying to know that I helped find her, to find a nice place for her daughter."
Music was a major part of the service. Following Paul a song was played reminding guests to keep Lori's memory alive.
Sara Hill, Volunteer Searcher: "I know for Thelma and for Mr. Soares that Lori was here. And I'm sure that she'll always be with them in their hearts and in their spirits."
Thelma's Stake President took that message one step further, asking Lori's family to draw upon their religious beliefs for comfort, that one day they would be reunited.
Then with bowed head and teary eyes, Herald dedicated and blessed his daughter's grave site. It was Thelma who placed the first red rose on the casket, finally able to lay her little girl to rest.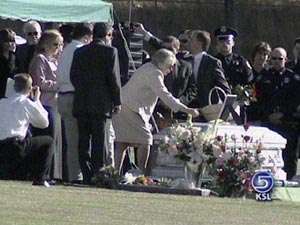 Sara Hill, Volunteer Searcher: "The mother is so very strong to bury her daughter; kids aren't supposed to leave before their parents leave."
After family, all those who volunteered in the search for Lori circled the casket.
Yvette Zayas, Guest and Volunteer Searcher: "It was a privilege that they even invited us here and had us be involved."
Christen Park, Guest and Volunteer Searcher: "I would not have missed it for anything."
Then the rest of the group each took a moment at the casket to place a rose on top. All the while a recording of the Mormon Tabernacle Choir played 'God be with you till we meet again.'
Among the guests who placed a rose on Lori's casket were: Mark Hacking's mother, father, and brother. There was no division among the two families. Lori's mother Thelma hugged each one of them throughout the service. It was clear the Hacking's were struggling as much as the Soares family.
×
Most recent News stories