Estimated read time: 2-3 minutes
This archived news story is available only for your personal, non-commercial use. Information in the story may be outdated or superseded by additional information. Reading or replaying the story in its archived form does not constitute a republication of the story.
John Hollenhorst ReportingOn Friday state regulators will likely change the rules on taking water from inside your house and using it for outside watering. You may be surprised to find out what's illegal now.
Whether you sing in the shower or recline in the tub, a lot of useful water goes down the drain. But if you use the drain water to water your lawns and plants, technically you're breaking the law. Under the law, shower-water is sewage.
Walt Baker, Utah Div. of Water Quality: "And to dispose of sewage without a permit is illegal."
The same holds true for water from sinks, washing machines and bathtubs. It's what's called "Gray Water."
If we could re-use it, it would save a family of four about 150 gallons a day. Other Western states allow it for irrigation, but not Utah, which typically lags behind other states in conservation measures.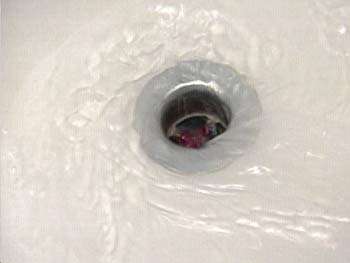 Walt Baker: "I suppose that's because there's not been an urgency for that over time. There's never been pressure to do this."
Now, of course, the drought is changing priorities, and Utah is about to change the rules. Landscape watering with gray water will be allowed as long as it's delivered by an underground irrigation system.
Walt Baker: "No pop-up sprinklers. This has all got to be discharged below the surface of the ground in a drip irrigation system of some kind."
Ken Young, Irrigation Installer: "It's a pretty good idea, I think."
It won't be cheap to install a Gray Water system.
Walt Baker: "There will be a cost to re-plumb your home if it's an existing home. I think the application is probably more with new development that can have the separate plumbing installed when the home is built."
No toilet water allowed, of course, and none from the kitchen. It's kind of unpleasant to think about, but fixing food produces too many dangerous germs.
The Utah Water Quality Board is expected to vote on the new Gray Water rule at a meeting on Friday.
×
Most recent News stories