Estimated read time: 2-3 minutes
This archived news story is available only for your personal, non-commercial use. Information in the story may be outdated or superseded by additional information. Reading or replaying the story in its archived form does not constitute a republication of the story.
Ed Yeates ReportingRobotic systems may soon water our lawns when they need it, not when we think they need it. The State Division of Water Resources is finishing up its final year of testing a variety of new products, which will take the watering of our landscapes out of our hands.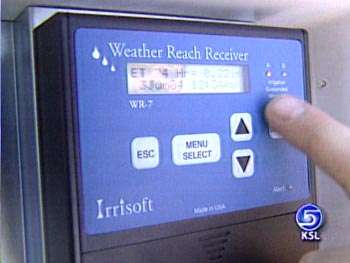 The City of North Salt Lake is testing one of the new automatic smart systems that actually lets the weather itself turn these sprinklers on and off.
We asked North Salt Lake to turn the water on manually simply to prove there really is irrigation in the green little park strip. But normally, it's hands off completely - while a little robotic box on a pole called Weather Reach turns the water on only when needed.
What's happening here is happening at other parks and several homes in North Salt Lake - all test sites for the State Division of Water Resources.
Eric Klotz, Utah Division of Water Resources: "What we've found in North Salt Lake is that they saved over the last two years about seven and a half million gallons of water."
What makes this unit so unique is that it gets its commands from a weather station a couple of miles away. It's called a regional weather station. There are sixteen sites now across the Wasatch Front, and more being installed all the time. These new automatic smart systems are simply taking advantage of what's already here, what's already being monitored.
The stations track evaporation of water using five climate measurements, then dispatch the information wirelessly to the Weather Reach units.
Steven Moore, President Irrisoft Inc.: "Solar radiation, sunshine, temperature, wind and humidity. Once we know how much water has left the landscape through evaporation, we can compare that against what comes naturally from rainfall."
These receivers interpret it all, telling the sprinkling stations what to do.
Eric Klotz has been testing the same unit at his home in North Salt Lake. It even keeps track of two different landscapes - the lawn, and the flowers and shrubs, which don't need as much.
Orem City Parks saved 12-million gallons of water last year.
The unit sells for about $485. But there is also a one-time contractor installation and calibration fee, which takes the price up to $800 to $1,000. But whether it's this product or some of the others being tested, robotic watering is where this desert state is going for the future.
×
Most recent News stories