Estimated read time: 2-3 minutes
This archived news story is available only for your personal, non-commercial use. Information in the story may be outdated or superseded by additional information. Reading or replaying the story in its archived form does not constitute a republication of the story.
BAGHDAD, Iraq - With shouts of "Dave, Dave!" U.S. soldiers greeted the American late night TV show host David Letterman as he visited troops in central Baghdad on Christmas Eve.
Letterman, the host of CBS' "Late Show," chatted with wounded and sick soldiers in the military's main combat hospital and met soldiers at one of Saddam Hussein's ransacked palaces that now serves as part of the U.S.-led coalition's headquarters.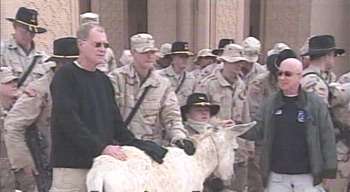 Soldiers said the visit was an important boost over the holiday spent far from home.
Arriving at the hospital, Letterman emerged from a car wearing dark sunglasses, smoking a cigarette, holding a cup of coffee and casually taking a phone call.
Snapping a picture, 1st Lt. Michael Gerstmyer, 24, from Baltimore, Maryland, said he was surprised at how relaxed the TV star appeared in a battle zone.
"He acts like he's been here for years," Gerstmyer said.
Last Christmas, Letterman visited troops in Afghanistan.
Letterman — who brought along his comedy sidekick Biff Henderson and the show's musician, Paul Schaffer — toured the hospital and stopped at the bed of Pfc. Jacob Dominique, 20, of Archbold, Ohio. "We took his appendix," a nurse said.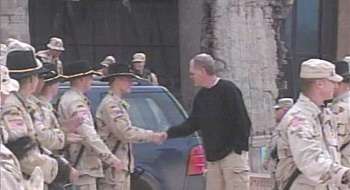 Letterman's reply — "I saw it downstairs in the gift shop" — won a roomful of laughs.
In a routine that Letterman is famous for on the show, he read out a "top 10" list written especially for the soldiers: the top 10 signs you've been in Iraq too long.
"No. 9: you've heard a crazy rumor that Arnold Schwarzenegger is the governor of California," Letterman said.
Number two was, "Camel: it tastes like chicken."
Number one was aimed at the soldiers running the hospital: "And the No. 1 sign you've been in Iraq too long: Dave's heard about our outstanding health care and came to us for his hemorrhoids," Letterman said to loud applause.
(Copyright 2003 by The Associated Press. All Rights Reserved.)
×
Most recent News stories