Estimated read time: 7-8 minutes
This archived news story is available only for your personal, non-commercial use. Information in the story may be outdated or superseded by additional information. Reading or replaying the story in its archived form does not constitute a republication of the story.
BAGHDAD, Iraq (AP) -- Interrogations of Saddam Hussein and documents in his personal briefcase, seized with him, have led to the arrest of several prominent regime figures in Baghdad, a U.S. general told The Associated Press on Monday. Suicide bombers attacked police stations in the capital, killing eight people as the insurgency showed no sign of letting up.
A member of the Iraqi Governing Council said Saddam could be put on trial in the next few weeks and face execution if convicted, though another member said it could take four to six months to begin the trial before a war crimes tribunal set up last week.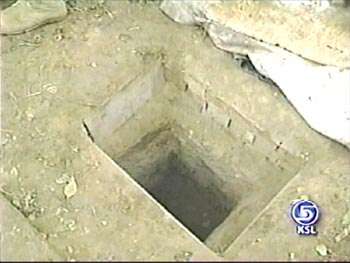 "My name is Saddam Hussein," the fallen Iraqi leader told U.S. troops in English as they pulled him out of a dank hole Saturday night where he hid in the village of Adwar, north of Baghdad. "I am the president of Iraq and I want to negotiate."
A U.S. Special Forces soldier replied: "Regards from President Bush," according to Maj. Bryan Reed, operations officer for the 1st Brigade, 4th Infantry Division.
Bush expanded on his message to Saddam in remarks to reporters in Washington later Monday: "Good riddance. The world is better off without you, Mr. Saddam Hussein."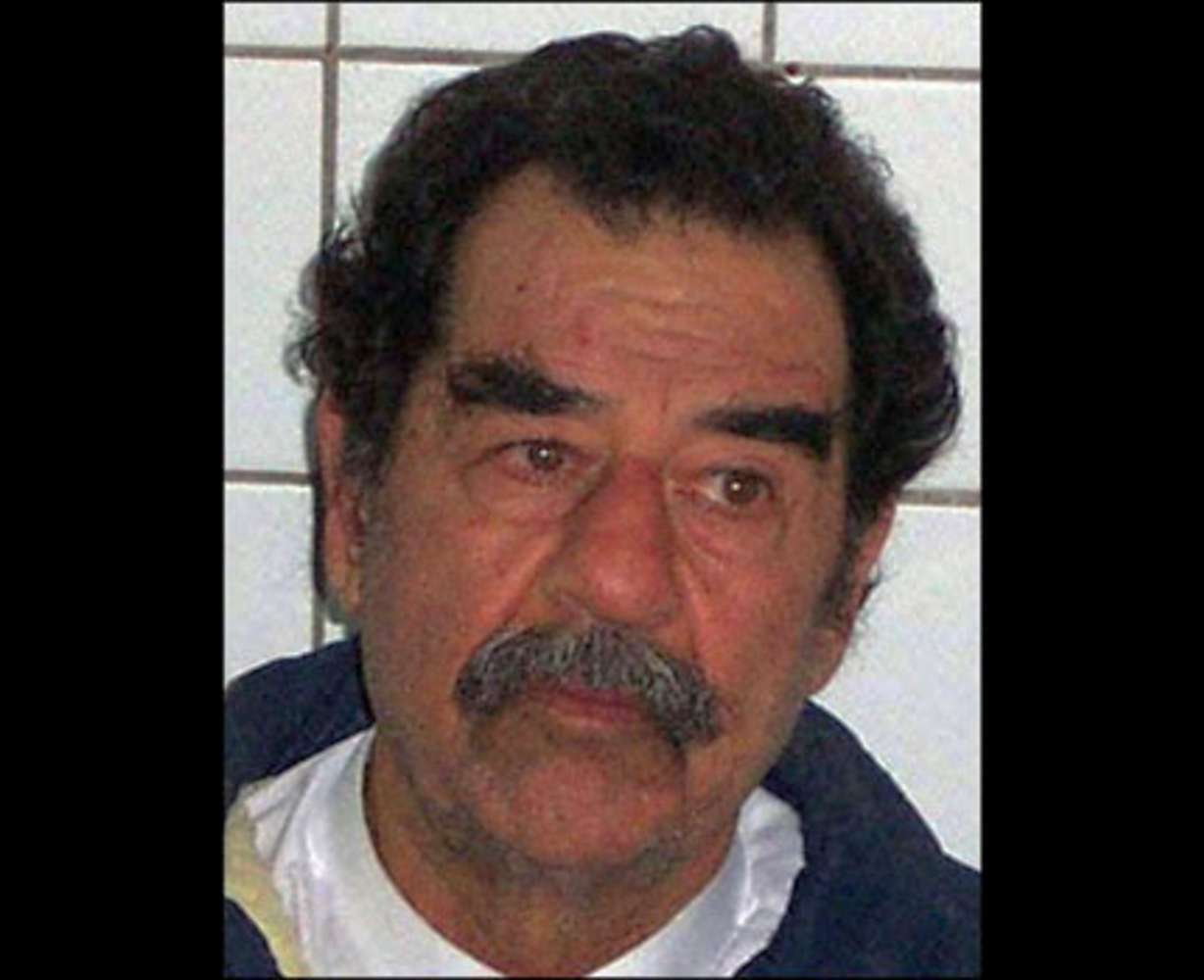 He added that the United States would work with the Iraqi people "to develop a way to try him that will withstand international scrutiny."
American officials said interrogations of Saddam, whose current location was unknown, will focus first on getting intelligence on the insurgency that has taken the lives of nearly 200 American soldiers.
Defense Secretary Donald Rumsfeld said Saddam was not helping. "He has not been cooperative in terms of talking or anything like that," Rumsfeld told CBS' "60 Minutes" on Sunday.
But U.S. Army Brig. Gen. Mark Hertling of the 1st Armored Division told AP in Baghdad that the first round of Saddam's questioning and documents in a briefcase found with him was "connecting the dots" in intelligence on the insurgency.
"It was reported as his personal briefcase," Hertling said. "There were a lot of things that can be exploited."
Since Saddam's was detained, U.S. Army teams from the 1st Armored Division have seized one high-ranking former regime figure -- who has yet to be identified -- and that prisoner has given up a few others, Hertling said. All the men are currently being interrogated and more raids are expected, Hertling said.
Hertling described the newly arrested figures as "key" but did not indicate whether they were on the U.S. military's list of 55 most-wanted regime officials. Thirteen of those figures remain at large, the highest ranking of them Izzat Ibrahim al-Douri, a close Saddam aide who U.S. officials say may be directly organizing resistance.
"We've already gleaned intelligence value from his capture," Hertling said of Saddam. "We've already been able to capture a couple of key individuals here in Baghdad. We've completely confirmed one of the cells. It's putting the pieces together and it's connecting the dots. It has already helped us significantly in Baghdad."
Hertling said: "I'm sure he was giving some guidance to some key figures in this insurgency."
In Tikrit, near where Saddam was found, police broke up a pro-Saddam protest by hundreds of university students who chanted: "With our blood and with our souls, we will defend you, Saddam."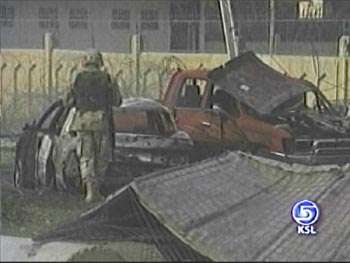 Violence continued with a flurry of car bombings and attempted bombings against Iraqi police stations Monday. In the worst blast, a four-wheel drive vehicle packed with explosives drove through the razor wire protecting the station in Baghdad's district of Husainiyah, demolishing the building's facade and damaging nearby shops. Eight Iraqi officers were killed and 10 officers and five civilians were wounded.
At the Ameriyah station in western Baghdad, a car bomb exploded, wounding seven officers. Iraqi police and U.S. military police fired on a second explosives-packed vehicle, preventing it from ramming the police station, Hertling said. The vehicle's driver fled. U.S. troops found yet another explosives-packed vehicle parked in east Baghdad on Sunday that appeared to have been abandoned, possibly because of mechanical trouble.
Before the news of Saddam was announced, a suicide car bombers attacked a police station Sunday in the town of Khaldiyah west of Baghdad, killing at least 17 Iraqis and wounding 33. Also Sunday, a U.S. soldier died while trying to disarm a roadside bomb south of the capital -- the 452nd soldier to die in Iraq.
Bush had warned attacks would not stop even with Saddam in custody.
Hertling said he hoped Saddam will eventually clear up allegations that he had chemical and biological weapons and a nuclear weapons program.
"I certainly think some of that will come out," Hertling said. "I think we'll get some significant intelligence over the next couple of days."
Saddam's exact whereabouts Monday were unclear. Hertling said he remains in Iraq. CNN and the Dubai-based Arab TV station Al-Arabiya reported Saddam was taken to Qatar. A spokesman at U.S. Central Command would not give information on Saddam's location.
The International Committee of the Red Cross said it hopes U.S. authorities will let it visit Saddam to check on the conditions in which he is being held.
Saddam could be tried "in the next few weeks" and could be executed if convicted, said Mouwafak al-Rabii, a Shiite member of the Iraqi Governing Council told AP on Monday. Other council members said a trial would likely begin later.
"We will get sovereignty on the 30th of June, and I can tell you, he could be executed on the 1st of July." said al-Rabii, a longtime human rights activist.
Rumsfeld told "60 Minutes" that Saddam would be accorded the rights of prisoners of war under the Geneva Convention, but added that any participation by Saddam in the insurgency against coalition troops might lead to different classification.
Saturday's massive raid by 600 troops from the 4th Infantry Division and Special Forces soldiers targeted two farmhouses in Adwar. At a walled compound nearby, Special Forces pulled Saddam out of the narrow hole, a hiding place at a safehouse about 10 miles from one of his former palaces in his hometown of Tikrit.
Soldiers were seconds away from throwing a hand grenade into the hole when Saddam surrendered, said Col. James Hickey, who led the raid.
"We have him," they radioed to commanders nearby, Bailey said.
The tip-off came from an individual arrested in Baghdad Friday and brought to Tikrit on Saturday for an interrogation that made clear Saddam was in the area, Hickey said. Within three hours of the tip, troops were at the Adwar farm.
Saddam was disheveled, with a thick beard, and though he was armed with a pistol, the man who waged and lost two wars against the United States and its allies did not resist or fire a shot.
"Ladies and gentlemen, we got him," U.S. administrator L. Paul Bremer told a news conference. "The tyrant is a prisoner."
"He was just caught like a rat," said Maj. Gen. Raymond Odierno, whose 4th Infantry Division troops staged the raid. "When you're in the bottom of a hole, you can't fight back."
The lack of communications equipment in Saddam's cramped quarters indicated the ousted dictator was not commanding the resistance, Odierno said.
Saddam will now "face the justice he denied to millions," said Bush, whose troops and intelligence agents had been searching for Saddam since April. "In the history of Iraq, a dark and painful era is over."
The United States had posted a $25 million bounty for Saddam, as it did for Osama bin Laden, the leader of the al-Qaida terrorist network still at large despite a manhunt since November 2001.
It was not known immediately if anyone has a claim to the reward, though U.S. forces found him after receiving information from an Iraqi -- a member of a family close to Saddam, Odierno said.
Eager to prove to Iraqis that Saddam was in custody, the U.S. military showed video of the ousted leader, haggard and gray-bearded, as a military doctor examined him. Baghdad radio stations played jubilant music and some bus passengers shouted, "They got Saddam! They got Saddam!"
But some residents of Adwar recalled fondly how Saddam used to swim in the nearby Tigris River and bemoaned the downfall of the leader who donated generously to area residents.
"This is bad news to all Iraqis," said Ammar Zidan, 21. "Even if they captured Saddam Hussein, we are all Saddam Hussein. We want freedom and independence from the Americans."
(Copyright 2003 by The Associated Press. All Rights Reserved.)
×
Most recent News stories