Estimated read time: 2-3 minutes
This archived news story is available only for your personal, non-commercial use. Information in the story may be outdated or superseded by additional information. Reading or replaying the story in its archived form does not constitute a republication of the story.
ADWAR, Iraq (AP) -- The yard was a mess, the laundry wasn't done, the pantry was bare and the only art on the wall was a poster of Noah's Ark.
Saddam Hussein's hideaway on a farmhouse in northern Iraq looked more like a derelict property abandoned by squatters than the lavish palaces he had lived in for years.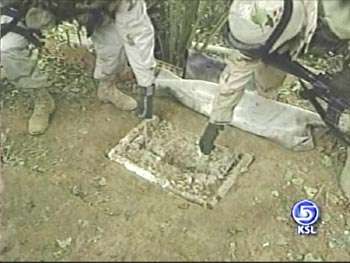 On a tour of the mud-brick hut above the hole Saddam was found in two days earlier, reporters on Monday found a tiny bedroom and a makeshift kitchen but no bathroom.
Branches covered the roof and a gray metal door with a padlock was the only security.
Inside, dirty laundry, including gray trousers and a towel, hung from a clothesline above a bed covered with a floral blanket. The poster was tacked to the wall near a second bed which appeared unused.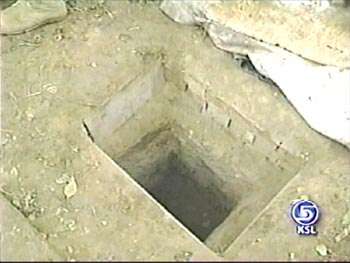 A box on the floor contained a long, black Arab robe; two new, white men's T-shirts and two pairs of white cotton boxer shorts.
Black moccasins and a pair of slippers with gold-colored buckles were shoved against the wall. There were old textbooks on the floor.
In the makeshift kitchen, a small fridge contained a few Bounty candy bars, some hot dogs and a can of 7-UP. There was old bread on a counter, leftover rice in a pot and dirty dishes in the sink.
On a shelf above the gas stove, there was soap, a canister of coffee, mouthwash, a mirror and two Mars candy bars.
Two men were caught fleeing the premises when troops raided the site late Saturday. Saddam's capture was announced the next day in Baghdad.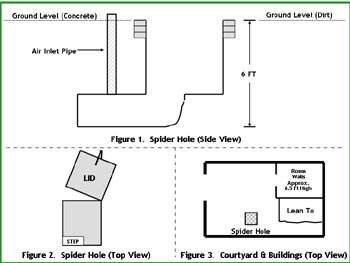 Outside the hut, a ditch appeared to serve as a latrine. The yard was littered with garbage, plastic bags, empty bottles, rotten fruit and a broken chair.
Troops had found a white cloth concealing the underground room Saddam was in. Beneath the cloth was a piece of plastic foam with two wire handles that was painted to look like concrete.
Next to a date tree beside the hole was a tin exhaust pipe that served as the hole's ventilation duct. Drying salamis and figs were hung on the pipe to help disguise it.
There were two tents on the property, a chicken coop and a stable that was home to a single cow.
Palm trees, orchards, orange trees and a sunflower field lined the road to the property about 10 miles south of Tikrit, Saddam's ancestral home.
Special Forces entered the building Saturday night and found Saddam in the hole outside the hut. Twenty minutes later, they reported apprehending "High-value Target No. 1," said Col. James Hickey, whose 4th Infantry Division accompanied Special Forces on the raid.
Two AK-47 rifles, documents and $750,000 in cash were also found and removed from the property during the raid.
Saddam, looking haggard and wearing a scraggly beard, was found clutching a loaded pistol he didn't fire.
(Copyright 2003 by The Associated Press. All Rights Reserved.)
×
Most recent News stories