Estimated read time: 3-4 minutes
This archived news story is available only for your personal, non-commercial use. Information in the story may be outdated or superseded by additional information. Reading or replaying the story in its archived form does not constitute a republication of the story.
ELIZABETH, W.Va. (AP) -- Former POW Jessica Lynch returned home to a flag-waving hero's welcome Tuesday, and in her first public words since her rescue said: "It's great to be home."
"I'd like to say thank you to everyone who helped and prayed for my return," said Lynch, who was brought to the podium in a wheelchair wearing a beret and green Army dress uniform.
Lynch received a standing ovation as she entered a media tent and made her brief remarks against the backdrop of a large American flag. Outside, friends and family waved flags and "Welcome Home Jessica" signs, while a marching band warmed up for a parade trumpeting Lynch's return home.
The 20-year-old former POW said she did not realize for "a long time" that her ordeal had captured the hearts of millions around the globe.
"But I'm beginning to understand because I've read thousands of cards and letters -- many of them from children -- that offer messages of hope and faith," she said.
Lynch said she had read "thousands of stories" recounting that when she was rescued, she told U.S. Special Forces that she was an American soldier.
"Those stories were right. Those were my words. I'm an American soldier, too," she said.
Lynch's 507th Maintenance Company convoy was ambushed March 23 near the Iraqi city of Nasiriyah in an attack that killed 11 soldiers. U.S. forces rescued Lynch at a Nasiriyah hospital April 1, while five other captured 507th soldiers, held apart from Lynch, were released April 13.
Lynch's rescue quickly made an American hero out of the petite blonde who joined the Army to get an education and become a kindergarten teacher.
"I'm proud to be a soldier in the Army. I'm proud to have served with the 507th. I'm happy that some soldiers I served with made it home alive. It hurts that some of my company didn't," Lynch said.
Lynch also said she was "thankful to several Iraqi citizens who helped save my life while I was in their hospital."
Lynch said she missed Pfc. Lori Piestewa 23, who was her roommate, best friend and a member of the 507th. Piestewa died of injuries suffered in the ambush.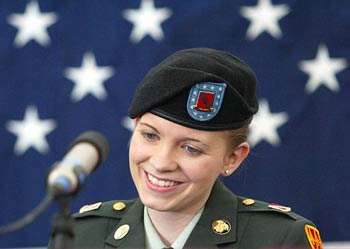 "She fought beside me, and it was an honor to have served with her," Lynch said.
Suffering from multiple broken bones and other injuries, she had arrived at Walter Reed in the nation's capital on April 12. Lynch is able to walk with the aid of a walker but still has trouble standing.
She spent more than 100 days at Walter Reed before she was released Tuesday morning. She boarded a Black Hawk helicopter for the trip to Wirt County and arrived in Elizabeth at 1:56 p.m.
After her remarks, Lynch rode in a convertible in a military motorcade through Elizabeth and then to her hometown of Palestine, a community of about 300 about five miles away.
About 2,000 people lined the motorcade route along State Route 14 in hopes of catching a glimpse of Lynch.
"We're here to see history," said Mary Elder, 52, of St. Marys.
Using 1,600 yards of donated lawn chair material, town workers hung hundreds of yellow bows along the motorcade route from Elizabeth to Palestine, about five miles away. By midmorning, seven dozen people gathered along the route to welcome Lynch home.
On Monday, Lynch was awarded the Bronze Star, Purple Heart and Prisoner of War medals. The Bronze Star is given for meritorious combat service, a Purple Heart is most often awarded to those wounded in combat, and the POW for being held captive during wartime.
(Copyright 2003 by The Associated Press. All Rights Reserved.)
×
Most recent News stories