Estimated read time: 4-5 minutes
This archived news story is available only for your personal, non-commercial use. Information in the story may be outdated or superseded by additional information. Reading or replaying the story in its archived form does not constitute a republication of the story.
KHALDIYAH, Iraq (AP) -- A sniper killed a U.S. soldier on patrol in Baghdad with a single shot, while gunmen targeted Iraqi officials in nearby towns in drive-by shootings likely designed to intimidate them against cooperating with Americans, the military said Tuesday.
The sniper shot the soldier from the 1st Armored Division's 1st Brigade in the back as he rode in a Humvee about 11:30 p.m. Monday, said brigade spokesman Lt. Alex Kasarda. The gunman escaped.
Military officials said it was likely the bullet penetrated the soldier's flak vest, possibly by entering at an angle that missed an armored ceramic plate. The soldier's name was withheld until his family could be notified.
As the soldier was killed, dozens of members of the same brigade raided a cafe and religious school in the same neighborhood, a Sunni Muslim stronghold where resistance fighters have repeatedly ambushed U.S. troops.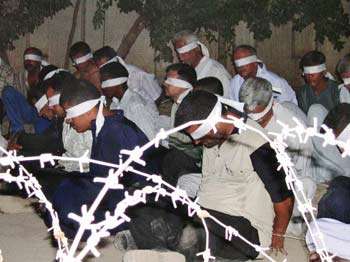 During the raid, American troops captured 31 Iraqi men but did not find the resistance ringleaders they sought. The U.S. forces released the Iraqis Tuesday morning.
Kasarda said the two-vehicle convoy wasn't involved in the raid, but was seeking a former Iraqi missile compound when the sniper's bullet punctured the canvas top of the Humvee.
The violence came as U.S. military officials announced that American troops detained more than 400 people in three days of sweeps in Baghdad and northern Iraq to "isolate and defeat remaining pockets of resistance that are seeking to delay the transition to a peaceful and stable Iraq."
On Sunday, insurgents ambushed two U.S. military convoys north of Baghdad, wounding 10 soldiers and an unknown number of Iraqi civilians on a nearby bus.
About 50 American soldiers have died from hostile fire or in accidents in Iraq since the United States declared major combat operations over on May 1.
In Fallujah, 35 miles west of Baghdad, suspected anti-American insurgents fired shots into the mayor's office and the courthouse. In the nearby town of Khaldiyah, gunmen fired into a police station overnight Tuesday. There were no injuries reported.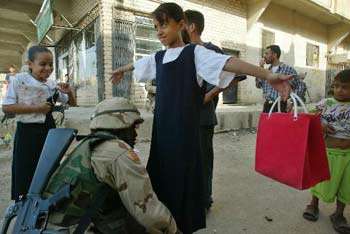 U.S. forces have restored the authority of local government agencies in the area, working closely with mayors to coordinate aid, paying judges' salaries and rearming local police.
The shootings were the first known attacks directed against Iraqi officials for cooperating with U.S. forces and represented a possible new front for the insurgents, American officials said.
"There is an element of society here that doesn't want change and they see the coalition forces as bringing change in the form of freedom and democracy," said Col. David Perkins, commander of the 3rd Infantry Division's 2nd Brigade. "Anyone they think is helping with that change they are going to try to intimidate and that won't work."
The U.S. military entered its third day of a nationwide sweep dubbed Operation Desert Scorpion that aims to arrest anti-American insurgents and find heavy weapons.
In the northern towns of Tikrit and Kirkuk, coalition forces conducted dozens of raids and detained more than 200 people, said a statement from U.S. Central Command.
Troops in the Baghdad area staged 11 raids and detained 156 people, in addition to seizing 121 rifles, two submachine guns, 19 pistols, 18 rocket-propelled grenades, four machine guns, 31 pounds of explosives, and some chemical protective masks, the statement said.
The statement did not say how many peopled the U.S. forces released, but officers on the ground said many were set free after brief interrogations.
After barging into a tough Sunni Muslim neighborhood and seizing 44 men for questioning, U.S. soldiers released all but 13 on Tuesday. Truckloads of medical supplies seized in the raids were to be donated to a local hospital.
The Iraqis remaining in custody included three suspected of organizing and helping carrying out a June 1 ambush on U.S. troops in the Azamiyah neighborhood.
Army counterintelligence officers interrogated the captured Iraqis in hopes of gleaning information about the dozen or so Iraqi irregulars who shot and tossed grenades at soldiers from the U.S. Army's 1st Armored Division. The June 1 ambush at the Abu Hanifa mosque in east Baghdad injured two American soldiers and sparked a firefight that killed two Iraqis.
A pair of raids Monday capped weeks of painstaking intelligence gathering from Iraqi informants who picked out suspects' houses, as well as surveillance photos from U.S. Special Forces and satellite imagery, said Maj. Scott Bisciotti, an operations officer with 1st Armored.
"We've been pursuing every lead, trying to connect all the dots and develop targets," Bisciotti said.
(Copyright 2003 by The Associated Press. All Rights Reserved.)
×
Most recent News stories