Estimated read time: 3-4 minutes
This archived news story is available only for your personal, non-commercial use. Information in the story may be outdated or superseded by additional information. Reading or replaying the story in its archived form does not constitute a republication of the story.
SALT LAKE CITY -- The volcanic ash drifting from Iceland has grounded thousands of additional flights Friday across Europe.
The Eurocontrol air traffic agency says nearly two-thirds of Friday's scheduled 28,000 daily flights were canceled; nearly double the number grounded Thursday. Only about 120 trans-Atlantic flights made it to European airports Friday, less than half the normal load of 300. Another 60 flights between Asia and Europe were also canceled.
The International Air Transport Association estimates the volcano is costing the industry at least $200 million a day.
Related:
Utah is also affected. Salt Lake International Airport has a direct flight to and from Paris five days a week. Friday's flights were cancelled, so nearly 200 passengers who were scheduled to fly out of Salt Lake City will have to make other plans.
Those who were hoping to leave Paris are still stranded because they don't have a plane.
"There's such a myriad of connections that there's no one-size-fits-all formula to deal with this, and it will probably evolve into next week," says Barbara Gann, spokeswoman for Salt Lake International Airport.
"It's fluid. It'll be on and off through the weekend. Some airports are having windows of openings, and some airlines are cancelling in advance. It's just hard to know because it's flight by flight, and an individual situation can be completely different from another one."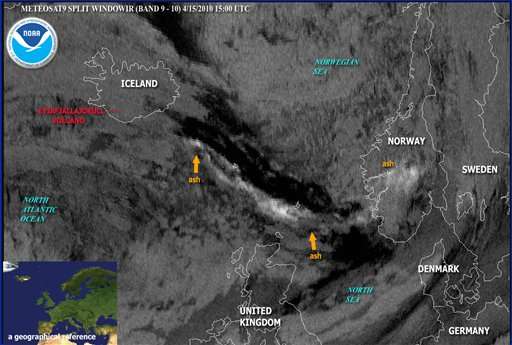 The huge plume of ash from a volcano in Iceland is drifting into Europe, and all the major airports in the region are shutting down. Thousands of passengers in the United Kingdom, Paris, Germany and other cities are sleeping on cots in airport terminals, not knowing when they'll be able to leave.
For many of these people, their vacation plans are ruined and they're scrambling to contact their travel agents. Brian Hollien, president of Morris Murdock Travel in Salt Lake, says hundreds of people have contacted them, trying to rebook or change their travel plans. But with so many airports shut down now, and perhaps more to follow, it's not easy to do.
Did you know ... ?
Volcanic ash consists of bits of pulverized rock and glass created by volcanic eruptions. They are less than 2 millimeters in diameter. The effect on jet aircraft can be severe. Very fine volcanic ash particles sucked into a jet engine melt, fusing onto the blades and other parts of the turbine. They can erode and destroy parts, and cause jams in rotating machinery. This can cause the engines to cut out.
"There's not enough inventory for people to get there over the next couple of weeks", Hollien says. "So some of these folks might be delayed more than a month."
In some cases, passengers who originally had direct flights are having to take multiple connections now, and even then, there are no guarantees.
Hollien told KSL 5 about a call from a client Thursday. He said, "One passenger wanted to be re-accommodated, and we did it after hours and hours of work yesterday with four connections to get into Germany. And now, between yesterday and today, Frankfurt is shut down."
This is a scenario that could take a while to settle out, and Gann says airplanes and crews will need time to get back into position.
"As in 9/11, it took awhile for it to unravel. For equipment to get to the right place, and flight attendants and pilots to match up with that equipment," Gann explained. "So even after this original impact, there may be a long ripple effect."
Bottom line, call your airline if you have any plans for Europe, and even to major cities to the east coast--because they'll likely have some delays.
E-mail: kmccord@ksl.com
×
Photos
Related links
Most recent Utah stories