Estimated read time: 5-6 minutes
This archived news story is available only for your personal, non-commercial use. Information in the story may be outdated or superseded by additional information. Reading or replaying the story in its archived form does not constitute a republication of the story.
FALLUJAH, Iraq (AP) -- Gunmen opened fire on American troops at a checkpoint early Tuesday, killing two U.S. soldiers and wounding nine others in the troubled town of Fallujah -- a hotbed of support for Saddam Hussein's fallen Baath Party, the U.S. military said.
U.S. troops returned fire, killing two attackers and capturing six Iraqis for questioning.
Hours later, two American military police officers were injured, at least one seriously, after two attacks with rocket-propelled grenades on a northwest Baghdad police station, said Lt. Clint Mundinger of the U.S. Army's 709th Military Police Battalion.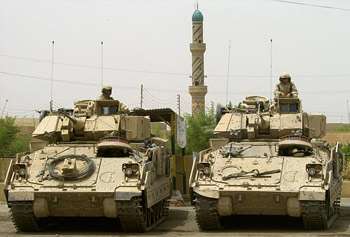 In the past three days, seven American soldiers have died in attacks or accidents in Iraq, but the American general commanding troops in Baghdad said Tuesday that security is improving in Iraq and that U.S. authorities are making progress on improving life for ordinary Iraqis.
The attack in Fallujah happened around midnight at a checkpoint in the town about 30 miles west of Baghdad.
Initial reports said the Americans were fired upon from many directions, including from a mosque, U.S. officials said. But townspeople said only two men fired shots and that the U.S. troops quickly killed them.
"Who knows what they were thinking when they engaged U.S. soldiers," said Maj. Randy Martin, a spokesman for the U.S. Army's V Corps. "I know we suffered casualties, and the enemy paid a price."
The U.S. soldiers killed or wounded were from the 3rd Armored Cavalry Regiment, based in Fort Carson, Colo., Martin said. Their names were not released.
In other developments:
-- Coalition forces over the weekend captured two regional Baath leaders, Sayf al-Din al-Mashadani and Sad Abd al-Majid al-Faysal, bringing to 27 the number of the top 55 former members of Saddam's regime in custody, Central Command said Tuesday.
-- The military said it arrested Saddam's brother-in-law, Mulhana Hamood Abdul Jabar, early Sunday in the leader's hometown of Tikrit. He was not on the list of 55 wanted regime members.
-- U.S. paratroopers impounded a truck Thursday in eastern Iraq with what appeared to be 999 bars of gold, worth an estimated $100 million, a military spokeswoman said Tuesday. The men inside the truck claimed the bars were copper ingots.
The Fallujah attackers used rocket-propelled grenades and small arms in the attack, according to a statement from U.S. Central Command, but Martin said the grenade was thrown by hand.
Bashir Jasim, who lives in the area, said the two Iraqis stopped their pickup truck at a traffic checkpoint, stepped out and opened fire. They were killed immediately by the Americans, he said. Other townspeople gave similar accounts.
But Martin said two vehicles approached the checkpoint together, and that men from the second opened fire and threw the grenade after U.S. troops found weapons in the first vehicle.
U.S. troops responded with fire from Bradley Fighting Vehicles, machine guns and small arms.
The attack came as Maj. Gen. Buford Blount III, the U.S. general in charge of troops in Baghdad, said that violence against U.S. forces appeared to be random incidents by irregulars loyal to Saddam and that overall security in Iraq's capital is improving.
Blount said most looting has ended and that joint U.S.-Iraqi police patrols have been arresting 40-50 people daily for more serious crimes.
"Every week we've had some kind of attack, whether it be a drive-by shooting or a (rocket-propelled grenade)," he said. "Yesterday it was a land mine. But it's very small groups, one or two people, in isolated attacks against our soldiers."
Blount said progress was also being made in normalizing electricity and water supplies to all of Baghdad, but that many of the difficulties in restoring utilities predate the war.
But Qaisar Wutwut, a senior official in the Iraqi National Congress that opposed Saddam, blamed officials of the former ruling Baath Party for the slowness of the U.S.-led administration in re-establishing law and order and restoring utilities and public services in Baghdad.
"Why is there still no electricity in Baghdad today?" asked Wutwut, noting that power generators in Baghdad and elsewhere were undamaged during the war. "It's because Baathists working with the Americans are preventing the electricity from returning."
In Fallujah, the site of Tuesday's attack, U.S. forces have run into trouble before.
Protests against the Army's presence in the town -- which was favored under the rule of Saddam Hussein -- turned violent when U.S. soldiers fired on crowds on April 28 and April 30, killing 18 Iraqis and wounding at least 78.
On Tuesday, Fallujah residents said they were growing angry with the American presence.
"Every Iraqi is ready to sacrifice his life for resistance," said Safa al-Jubair, a 27-year-old street vendor. "We are 26 million Iraqis and we are all resisting and, God willing, occupation will end."
Separately, a U.S. soldier died Tuesday and two others were injured in a road accident near the town of Tallil, when their tractor-trailer collided with another vehicle. Another soldier drowned after diving into an aqueduct in northern Iraq, the Central Command said.
Recent days have been equally perilous for U.S. forces around Iraq.
A soldier was killed Monday and another wounded when their convoy was ambushed in northern Iraq. Another soldier died and three were wounded when their vehicle hit a land mine or a piece of unexploded ordnance in Baghdad, a military statement said Tuesday.
On Sunday, a U.S. soldier was killed and another injured in southern Iraq when a munitions dump exploded. The blast was not thought to be a result of hostile action, Central Command said.
(Copyright 2003 by The Associated Press. All Rights Reserved.)
×
Most recent News stories