Estimated read time: 4-5 minutes
This archived news story is available only for your personal, non-commercial use. Information in the story may be outdated or superseded by additional information. Reading or replaying the story in its archived form does not constitute a republication of the story.
FALLUJAH, Iraq (AP) American troops again fired on anti-U.S. protesters in Fallujah's streets Wednesday and said they won't give up their foothold in the one-time Baath Party bastion. At least two were killed and 18 wounded, hospital officials reported.
In a bloodier episode Monday night, 15 protesters and bystanders were killed, and at least 50 wounded, officials said. In both cases, U.S. officers -- and the U.S. Central Command -- said their soldiers were fired on first from among the crowds.
But Iraqis denied it, and no weapons or suspects have been produced.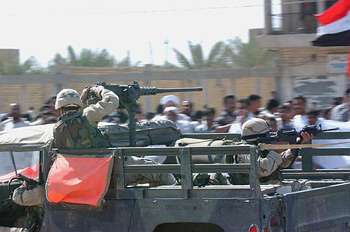 After Wednesday's shootings, a U.S. Army colonel said his forces will remain here "to help the city stabilize." Residents repeatedly said they want the Americans at least to withdraw to the city's outskirts.
Some were threatening. "Sooner or later U.S. killers we'll kill you," read an angry banner in English unfurled in the faces of GIs on guard in the central city.
This week's Fallujah bloodshed, in large part the result of clashes between a foreign force and a traditional Muslim society, underscores the military's challenge in a land where many say they will resist any foreign hand that tries to control them.
The resistance may be especially sharp in Fallujah, a city of 200,000 people 30 miles west of Baghdad, because it benefited particularly -- through its businessmen and military and police -- from Saddam Hussein's Baath regime, toppled last month by the U.S.-led coalition.
An indication of the city's fealty for the old regime: Air Force Maj. Gen. Gene Renuart, Central Command's operations director, said Monday's demonstration was apparently in celebration of Saddam's birthday.
Wednesday's violence occurred at the climax of a march by 1,000 men protesting the earlier shootings, which took place at a Fallujah school taken over for a time by a company of the 82nd Airborne Division.
The marchers, mostly young men in sandals and ankle-length dishdashas, halted on Fallujah's main avenue before a former police compound used as an 82nd Airborne command post.
A flier they distributed denounced Monday night's shootings, in which children were among the dead, as a "vicious and unprecedented crime," and demanded punishment for those responsible.
Overhead in the hot, clear skies, Army Apache helicopters circled, barely skimming the blue tile-topped minarets of Fallujah, a Sunni Muslim city known for its many mosques.
Within minutes, the protesters were throwing stones -- and then shoes -- some 30 yards toward U.S. soldiers hunkered down behind sandbags in the compound. A six-vehicle U.S. Army convoy then ventured past, between the protesters and the U.S. compound.
Suddenly gunfire erupted, though it wasn't clear from where. From atop one vehicle, a soldier fired a mounted machine gun toward the crowd. Other automatic fire came from paratroopers inside the compound. The marchers, panicked, dropped their banners and fled for the safety of side streets. Some stopped to pick up fallen friends.
It lasted less than a minute. Doctors later said the two dead men suffered head wounds.
American officers said someone in the crowd fired a weapon at the convoy.
"There was gunfire by at least one person," said Lt. Col. Tobin Green, a squadron commander in the 3rd Armored Cavalry Regiment, whose troops were in Fallujah to take control from the 82nd Airborne.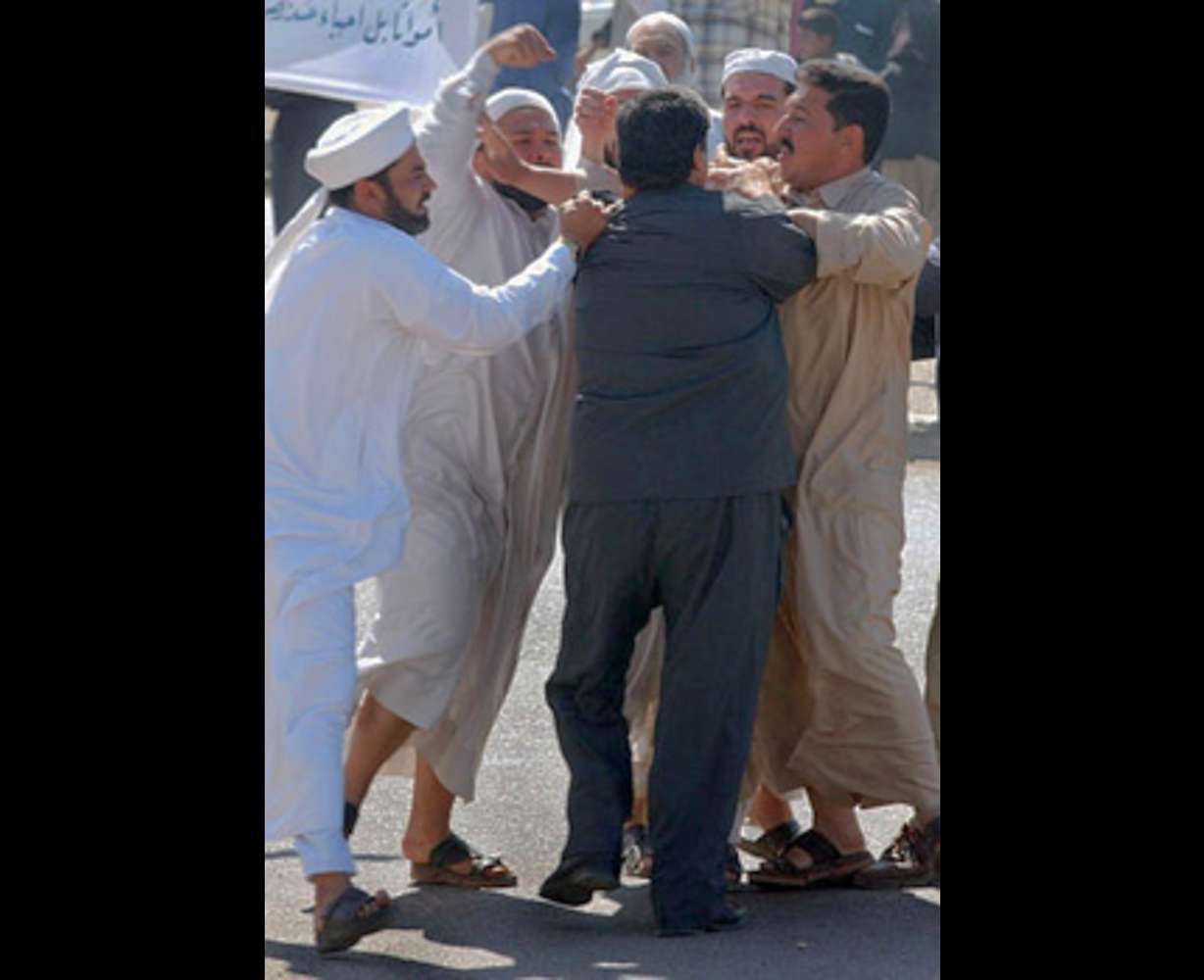 Iraqi witnesses denied there was any gunfire from the crowd. "The Americans inside the compound just fired randomly," Khazal Abdul Hadi, 44, a marcher wounded in the leg, said from his hospital bed.
After Monday night's bloodshed, too, officers said the American barrage was justified return fire. "Everything was within the rules of engagement," said Capt. Jeff Wilbur, an 82nd Airborne civil affairs officer. "There'll be no formal investigation."
Local leaders were unsatisfied. "We asked the commanding officers for an investigation and for compensation for the families of the dead and injured," said Taha Bedaiwi al-Alwani, the new, U.S.-recognized mayor of Fallujah.
At a meeting with U.S. officers, al-Alwani and local religious and clan leaders also asked that troops be redeployed outside the city center. In one move, the paratrooper company has left the disputed school.
Residents told reporters they were troubled by soldiers who gaze on Fallujah women and make seemingly rude comments, who they think mock the way Iraqis dress, and whose goggles or binoculars have some locals convinced they are "seeing" through curtains or clothing.
Green said the U.S. troops were here to help restore security in the aftermath of war. At the meeting, "we provided them with some guidance about what we intend to do to help the city stabilize," he said.
The mayor told reporters it would be "difficult" for the Americans to leave, but he said most residents oppose their presence.
"Many people believe these are occupying forces," he said, "and many of them are still cautious until they see their intentions."
(Copyright 2003 by The Associated Press. All Rights Reserved.)
×