Estimated read time: Less than a minute
This archived news story is available only for your personal, non-commercial use. Information in the story may be outdated or superseded by additional information. Reading or replaying the story in its archived form does not constitute a republication of the story.
A deck of 55 playing-sized cards that feature members of Iraqi leadership, such as Iraqi President Saddam Hussein, was distributed among members of Coalition forces to aid in finding and capturing former Iraqi leaders considered dangerous or guilty of crimes. Military spelling is shown on the playing cards, which were distributed around April 11, 2003.
Some of the top news stories in the days since the cards were released have included the capture of several Iraqi leaders featured in the deck.
Download PDF file of Iraqi Most Wanted Cards (720k)
The above download requires the Adobe Acrobat Reader
Below is a sample of some of the cards: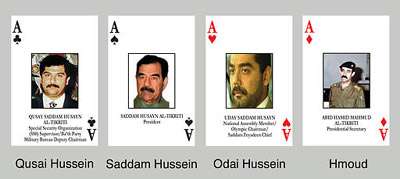 ×
Most recent News stories