Estimated read time: 5-6 minutes
This archived news story is available only for your personal, non-commercial use. Information in the story may be outdated or superseded by additional information. Reading or replaying the story in its archived form does not constitute a republication of the story.
BAGHDAD, Iraq (AP) -- Liberated by U.S.-led troops, thousands of jubilant Iraqis celebrated the collapse of Saddam Hussein's murderous regime on Wednesday, beheading a toppled statue of their longtime ruler in the center of Baghdad and looting government sites.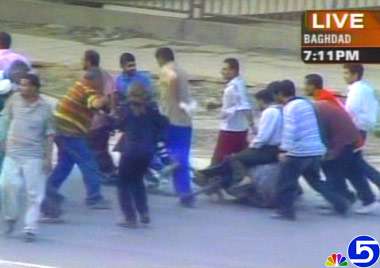 "He killed millions of us," said one young Iraqi, who spat on one of countless portraits of Saddam scattered throughout the capital. Women held up their babies so American soldiers riding on tanks could kiss them.
Iraqis released decades of pent-up fury as U.S. armored forces solidified their grip on the city. Marine tanks rolled to the eastern bank of the Tigris River; the Army was on the western side of the waterway that curls through the ancient city.
"We are not seeing any organized resistance," said Navy Capt. Frank Thorp at the U.S. Central Command. "The Iraqi military is unable to fight as an organized fighting force."
There was scattered combat, including at Baghdad University, where Iraqis were cornered, the river at their backs. There were clashes in the northeast part of the capital, as well as sporadic sniper fire.
Many Iraqis had clearly lost their fear of the ruling regime, brazenly entering government facilities and coming out with furniture, computers, air conditioners and even military jeeps.
The city's medical system was overrun with casualties, including 30 bodies and 250 wounded brought to the al-Kindi hospital.
Increasingly, American and British forces were turning their effort to humanitarian assistance in the southern part of the country, and their firepower on northern regions not yet under their control.
Warplanes bombed Tikrit, Saddam's birthplace about 100 miles north of the capital, in advance of ground forces moving in. American commandos and Kurdish peshmerga fighters seized a key mountaintop in northern Iraq, eliminating an Iraqi air defense installation near the government-held city of Mosul.
To the south, officials said the 1st Battalion Royal Irish Regiment had reached Qurnah, said to be the site of the biblical Garden of Eden and the birthplace of mankind. The troops were welcomed by cheering crowds of Ma'dan, marsh Arabs who have suffered genocide at the hands of Saddam.
Saddam's whereabouts remained a mystery, especially so since a bombing Monday night on a building where U.S. intelligence officials believed he and at least one of his sons were meeting. Russia's Foreign Ministry denied that the Iraqi leader had taken refuge in Moscow's embassy in Baghdad.
Administration officials cautioned that difficult and dangerous days may yet lie ahead for American and British forces. "This is not over, despite all the celebrating on the streets," said Defense Secretary Donald H. Rumsfeld. And Gen. Richard Myers, chairman of the Joint Chiefs of Staff, said Iraqi death squads still exist in the western part of the country.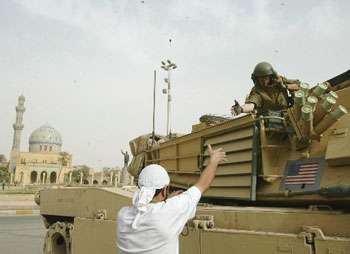 But whether Saddam was living or dead, wounded or hoping to escape, the signs of his regime's collapse were everywhere.
For the first time since Operation Iraqi Freedom was launched three weeks ago, Information Minister Mohammed Saeed al-Sahhaf failed to appear before reporters with claims of glorious battlefield victories by Iraqi troops. And for the first time in decades, Iraqis were defacing images of the man who ruled brutally for nearly a quarter century.
One wall painting was spraypainted with black devil's horns, eyeglasses and a black chin beard.
"We are relieved because for years we lived in anxiety and fear," said Shamoun George, a resident of Baghdad's Karrada district, as American troops entered the area.
"Bush, Bush, Thank you," chanted small bands of youth in Saddam City, a predominantly Shiite area of eastern Baghdad.
At the city center, a crowd gathered at the base of a large statue of Saddam inside al-Fardos (Paradise) Square. Several men climbed up a ladder, tied a thick rope around the statue like a noose, then tried to pull it over.
When that failed, the Marines brought an M88 tank recovery vehicle into position. A chain was attached to the statue, which was toppled to the cheers of watching Iraqis. Quickly, they swarmed over the downed icon, stomping it. Not long later, several men were seen dragging its severed head through the streets, and Iraqis used a sledgehammer to attack the pedestal where it once stood.
The scene was televised worldwide to an audience that included President Bush.
At the same time Baghdad rejoiced, celebration broke out in Irbil, far to the north. There, hundreds of men clapped and waved yellow flags, the banner of the Kurdistan Democratic Party.
There was joy, too, in the Kurdish city of Sulaymaniyah, base of the Patriotic Union of Kurdistan.
That celebration, and statements by Baghdad residents to American reporters, underscored the complexity of establishing a postwar government in Iraq.
"We will never allow them to stay. Whatever he (Saddam) has done, he is a Muslim and we are a Muslim nation," said Ali al-Obeidim, a store owner in Baghdad.
Bush and British Prime Minister Tony Blair, as well as numerous officials in both countries, have made clear the forces will stay only as long as necessary.
Already, there have been signs of maneuvering for a place in the new government by exiles and others, and the Kurds have long sought creation of an independent Kurdistan to be carved from several countries. Complicating matters further, Germany and France, which opposed the war, have made clear they want a role for the United Nations in the postwar period.
There were reminders of the cost of war for the United States.
Dozens of wounded Americans were carried off an Air Force plane on stretchers or limped off on crutches in San Diego.
And rescue teams were searching for two U.S. airmen from an F-15E Strike Eagle Fighter that went down over Iraq two days earlier.
By the Pentagon's count, 96 U.S. troops were dead, eight missing and seven captured since the war began. The British said 30 of their troops were dead. There are no reliable estimates for Iraqi casualties, although an Army spokesman said 7,300 prisoners had been taken.
A top U.S. State Department official, John R. Bolton, said in Rome that the Iraq war should be a lesson for other regimes pursuing weapons of mass destruction, although he insisted that the United States is seeking the peaceful elimination of those programs.
(Copyright 2003 by The Associated Press. All Rights Reserved.)
×
Most recent News stories