Estimated read time: 3-4 minutes
This archived news story is available only for your personal, non-commercial use. Information in the story may be outdated or superseded by additional information. Reading or replaying the story in its archived form does not constitute a republication of the story.
NASIRIYAH, Iraq (AP) -- An American flag folded across her chest, Pfc. Jessica Lynch left Iraq on a stretcher Wednesday after U.S. commandos, acting on a CIA tip, rescued the prisoner of war. But the operation also brought sad news -- the troops found 11 corpses, some believed to be Americans.
Lynch, a 19-year-old Army supply clerk, arrived at a U.S. air base in southwestern Germany on a C-17 transport plane late Wednesday for treatment at a U.S. military medical center. Her condition was not disclosed, but U.S. officials in Kuwait said she was believed to have broken legs, a broken arm and at least one gunshot wound.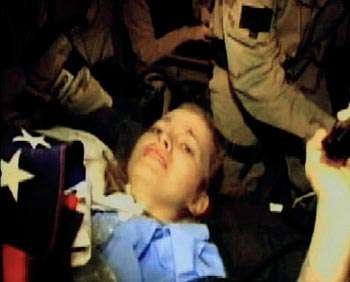 She was captured by the Iraqis more than a week ago after her maintenance unit made a wrong turn and was ambushed in Nasiriyah. Twelve other members of her unit were also feared captured; five of them are officially listed as POWs.
Following an intelligence tip about Lynch's whereabouts, U.S. special operations forces made their way behind Iraqi lines and seized Lynch from the Saddam Hospital under cover of darkness late Tuesday, American officials said.
"I thought at first it was an April Fools' joke," said her father, Greg Lynch Sr., speaking at the family's home in Palestine, W.Va. "I thought this was a cruel joke. I can put up with most things, but not that. They assured me, no, it's not a joke."
The operation also found 11 bodies -- two in a hospital morgue and nine buried outside the building, said Brig. Gen. Vincent Brooks, a U.S. Central Command spokesman. He said U.S. forces were led to the graves by someone who had been taken into custody.
The cause of death was not immediately disclosed.
"We have reason to believe some of them were Americans," said Navy Capt. Frank Thorp, another Central Command spokesman.
He said the military has not confirmed whether they were members of Lynch's unit, the 507th Maintenance Company. "We don't yet know the identity of those people," Thorp said. "And forensics will determine that."
The 507th was attacked March 23 during some of the earliest fighting in Nasiriyah, where Saddam's Fedayeen loyalists and other Iraqi fighters are said to have dressed as civilians and ambushed Americans.
Not long afterward, five of Lynch's fellow soldiers showed up in Iraqi television footage being asked questions by their captors.
The video also showed bodies, apparently of U.S. soldiers, leading the Pentagon to accuse Iraq of executing some POWs.
In Tuesday's raid, U.S. forces engaged in a firefight on the way into and out of the hospital but there were no coalition casualties, Brooks said. He said they found ammunition, mortars, maps and a terrain model at the hospital, along with "other things that made it very clear it was being used as a military command post."
"Some brave souls put their lives on the line to carry this out," Brooks said.
As soon as they rolled into the hospital compound, civilian patients and medical staff began emerging with their hands up. Most were allowed to leave, or to return to the building for treatment.
An Iraqi pharmacist who works at Saddam Hospital told Britain's Sky television that he treated Lynch for leg injuries but that she was otherwise healthy. But he added, "every day I saw her crying about wanting to go home."
The pharmacist, who gave his name only as Imad, said Lynch knew the U.S. troops were on the other side of the Euphrates River and "she kept wondering if the American Army were coming to save her."
(Copyright 2003 by The Associated Press. All Rights Reserved.)
×
Most recent News stories