Estimated read time: 3-4 minutes
This archived news story is available only for your personal, non-commercial use. Information in the story may be outdated or superseded by additional information. Reading or replaying the story in its archived form does not constitute a republication of the story.
KUWAIT CITY (AP) -- A missile fired by Iraq fell into the sea and exploded near Kuwait's most popular shopping mall early Saturday, blasting out windows, according to Kuwaiti and U.S. officials.
Two people sustained minor injuries, the official Kuwait News Agency reported.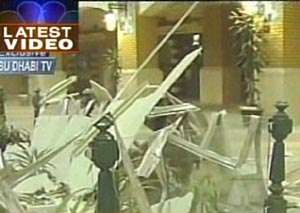 It was the closest that a missile has come to Kuwait City since U.S. troops based in the Persian Gulf emirate invaded neighboring Iraq on March 20.
"It came from the northeast part of the Gulf. It seemed to be traveling at a very low level," so no air raid sirens sounded, Fire Chief Jassim al-Mansouri said.
He said it hit a small pier that juts into the Gulf in front of the Souq Sharq mall at around 1:45 a.m., and pieces landed nearby.
The multilevel shopping center on Kuwait's seafront includes department stores, restaurants, theaters and Western-style stores such as Starbucks and the Body Shop.
The information minister, Sheik Ahmed Fahd Al Ahmed Al Sabah, said it was believed to have been a Chinese-made Silkworm missile. He said it was the 16th missile that Iraq has fired at Kuwait since the war began.
None of them contained chemical or biological weapons.
U.S. officials in Washington, speaking on the condition of anonymity, also said the missile appeared to have been a Silkworm launched from southern Iraq.
"Some missiles we cannot detect with our missile defense system," al-Sabah said. "This kind of missile flies very low."
The explosion shattered windows, blasted the glass door at the front of the mall and blew out huge chunks of plaster from the adjacent parking structure.
Parts of the ceiling and walls littered the ground in a covered plaza in front of the mall after the explosion. Television images also showed smoke rising over the Kuwaiti skyline.
An Egyptian and a Kuwaiti were treated at a nearby hospital and released for injuries sustained in the explosion, the Kuwait News Agency reported.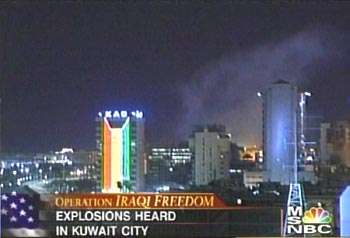 The mall is about half a mile from Sief Palace, the official seat of the emir of Kuwait. The emir lives in Dasman Palace, about two miles further away.
U.S. Patriot missile batteries guard Kuwait against missile attacks by neighboring Iraq. In Doha, Qatar, the U.S. Central Command said it was investigating the explosion.
None of the missiles fired at Kuwait has caused significant damage or injury. At least three have been destroyed by Patriots, according to U.S. military spokesmen.
On Thursday, civilian defense officials in Kuwait said a U.S. Patriot missile knocked down an Iraqi missile fired from southern Iraq.
Air raid sirens have sounded repeatedly since the war began last week, cautioning the 2.3 million residents of this small, oil-rich state to take cover.
A U.S.-led force in 1991 liberated Kuwait from an Iraqi invasion and many here voiced anger at Iraqi leader Saddam Hussein.
"My heart is still pounding," said Batoul Tabtabai, a 40-year-old housewife who had been shopping at a 24-hour supermarket about 200 yards from the blast. "May God take revenge on Saddam. There will be no security as long as he is alive."
Some onlookers celebrated the lack of major damage by gathering and singing around Ali Al-Sebai, an Egyptian-American musician who was visiting Kuwait, whose emir is Sheik Jaber Al Ahmed Al Sabah.
"We have Sheik Jaber and we fear no one," they sang. "Let Saddam go to hell."
Within hours of the first U.S. strike on Baghdad, sirens blared throughout Kuwait City, sending jittery residents scrambling for bomb shelters, some carrying gas masks and chemical suits.
(Copyright 2003 by The Associated Press. All Rights Reserved.)
×
Most recent News stories