Estimated read time: 5-6 minutes
This archived news story is available only for your personal, non-commercial use. Information in the story may be outdated or superseded by additional information. Reading or replaying the story in its archived form does not constitute a republication of the story.
With sandstorms finally over and a new front opened in the north, U.S. commanders said Thursday they would swiftly intensify attacks on Iraqi forces. In the south, a captured Iraqi airfield was renamed "Bush International Airport," while a British armored unit destroyed Iraqi tanks outside the besieged city of Basra.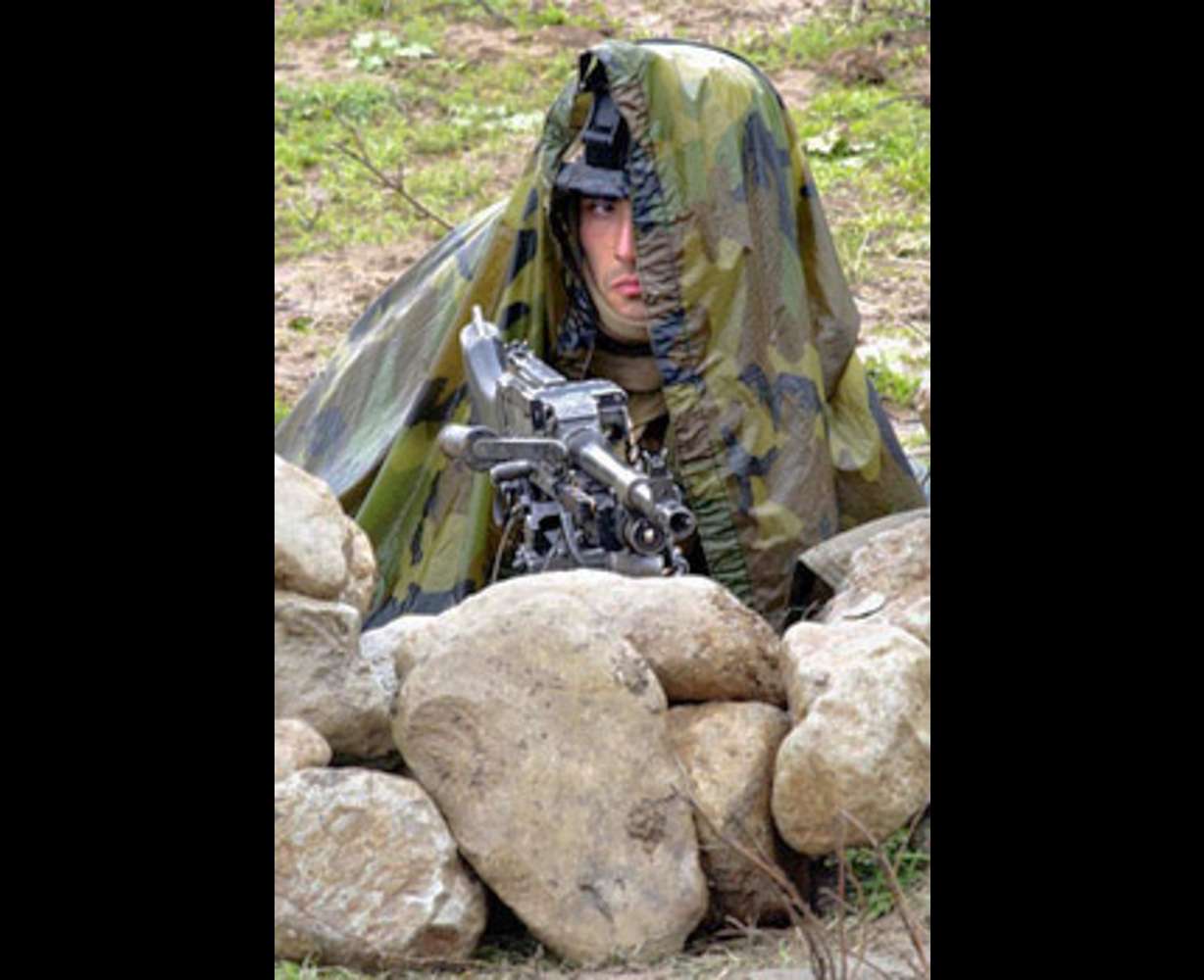 President Bush, standing side-by-side with British Prime Minister Tony Blair, reiterated that Iraq will be disarmed of weapons of mass destruction and Saddam Hussein's regime toppled. The pair met at Camp David to discuss the first week of the war.
"We have one objective in mind -- victory," Bush said. "And we will achieve victory."
Blair said he and Bush had decided to seek new U.N. resolutions on humanitarian relief, a postwar administration for Iraq and a promise to keep Iraq's territorial boundaries intact.
In Kurdish-controlled northern Iraq, 1,000 Rangers and other paratroopers from the Army's 173rd Airborne Brigade airdropped overnight onto an airfield and were busy securing it as they linked up with allied Kurdish militiamen. It is the first large deployment of American ground troops in the region; previously, only small groups of U.S. Special Forces were operating along with the Kurds.
"This tightens the noose against Saddam's forces," said Brig. Gen. James Parker, commander of U.S. forces in the north.
In central Iraq, where huge Army and Marine forces are gradually closing in on Baghdad, U.S. commanders were buoyed by the arrival of good weather. Defense officials said U.S. and British forces flew more than 600 bombing missions Thursday -- many against Republican Guard positions near Baghdad -- as they revved up an air campaign that had slowed because of bad weather.
And in southern Iraq, a captured key Iraqi airfield was informally renamed "Bush International Airport," with a hastily erected sign put up at its entrance. The base, about four miles from An Nasiriyah, was expected to be a major resupply base and transport hub for American forces.
In a news briefing at Central Command, Brig. Gen. Vincent Brooks said several U.S. units successfully battled Iraqi forces, including Republican Guard units, destroying vehicles and inflicting casualties. He said some Marines were injured in a 90-minute battle near An Nasiriyah, but gave no details.
In Baghdad, Iraqi military spokesman Gen. Haze al-Rawi provided a contradictory account, claiming that the Republican Guard killed "huge numbers of the enemy" and destroyed six armored vehicles during a fight in the southern Central Furat region.
Brooks accused the Iraqis of increasingly flagrant violations of international conventions. Iraqi security forces were seizing children to force their fathers to join the military, and were executing men who resisted, he said.
In southern Iraq, a tank unit of the Royal Scots Dragoon Guards destroyed Iraqi tanks trying to leave the besieged city of Basra overnight, according to a British spokesman, Group Capt. Al Lockwood. It was the third time this week that Iraqi columns have been attacked while trying to get out of Basra.
Initial reports said 14 tanks were hit, although authorities said later it was just three.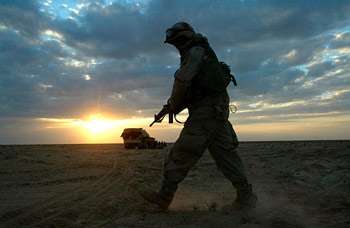 Lockwood said militiamen of the ruling Baath party were threatening families of Iraqi soldiers to force them into driving the military vehicles out of Basra.
"They are obviously coercing them into this action, whereas in fact we would have wished them to surrender," he said.
Aid for Basra and other parts of southern Iraq is supposed to come through the port of Umm Qasr, which has been captured by the allies. However, British officers said Iraqi mines have been discovered in the port, delaying the arrival of a ship carrying 200 tons of aid until minesweeping is completed.
The mines, made in Iraq after U.N. sanctions prevented weapons sales by other nations to the country, can be programmed to detonate after allowing some ships to pass safely, U.S. Brig. Gen. Vincent Brooks said at a briefing at Central Command in Qatar.
Two prisoners on a video aired by the Arab satellite station Al Jazeera were identified Thursday as Kenyans who had been living in Saudi Arabia. Kenyan Foreign Ministry spokesman Peter Ole Nkuraiyia said the pair were employed as drivers by a Saudi firm transporting humanitarian supplies into Iraq.
He declined to identify the firm or the two Kenyans.
Near An Nasiriyah, more than 30 U.S. Marines were injured, two seriously, in an accidental exchange of fire between American units, according to reporters for French and British media who were with the Marines. ITV correspondent James Mates said two groups of Marines were dispatched during the night to repel an Iraqi contingent, but ended up firing at each other.
Brooks said U.S. officials were investigating the report.
Skies cleared Thursday over Baghdad after one of the worst sandstorms in memory and the city was jolted by a series of explosions.
Iraq's health minister, Omeed Medhat Mubarak, said 36 civilians were killed and 215 injured Wednesday in allied air strikes on Baghdad, including what Iraq said was a U.S. cruise missile strike that hit a market area.
Nationwide, Mubarak said about 350 civilians had been killed and more than 4,000 injured since the war began. "Neither the Bush administration nor their bombs are 'smart,"' said Mubarak, accusing the United States and Britain of deliberately targeting civilians.
Brook said U.S. investigators were trying to determine whether it was a U.S. missile that hit the Baghdad market area on Wednesday. However, he suggested the damage might have been caused by an errant Iraqi surface-to-air missile, or even by a deliberate Iraqi action aimed at discrediting the United States.
An Iraqi military spokesman, Gen. Hazem al-Rawi, contended that U.S. and British officials were exaggerating their progress and concealing losses inflicted by Iraqi forces. "The enemy was not able to achieve the minimum of its objectives," he said.
In London, British defense officials said the discovery of more chemical protection suits suggest Iraq was prepared to use chemical weapons against advancing coalition forces.
Soldiers of the Royal Irish Regiment found about a hundred protection suits and respirators in an Iraqi command post, said Adm. Michael Boyce, chief of the defense staff.
"This kit was effective, well cared for and in good working order," Boyce said.
(Copyright 2003 by The Associated Press. All Rights Reserved.)
×
Most recent News stories