Estimated read time: 4-5 minutes
This archived news story is available only for your personal, non-commercial use. Information in the story may be outdated or superseded by additional information. Reading or replaying the story in its archived form does not constitute a republication of the story.
TOKYO (AP) - Thousands of angry protesters from Japan to Greece marched Saturday against the U.S.-led war in Iraq, in some cases condemning their own governments for supporting the United States.
In Tokyo, hundreds of anti-war demonstrators held up photographs of Iraqi children wounded in the 1991 Gulf War and carried banners with peace messages.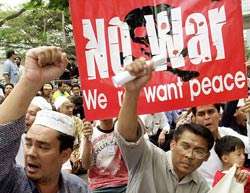 "Prime Minister (Junichiro) Koizumi supported America's war on Iraq ... but we want to let the world know that we citizens do not," said 69-year-old Kensaku Ikeda.
Demonstrators marched on the U.S. Navy base in Yokosuka _ headquarters of the Seventh Fleet _ just south of Tokyo, police said.
Newspaper polls published Saturday showed Koizumi's disapproval ratings rising because of his support for President Bush, and more rallies were scheduled across the country over the weekend.
About 15,000 protesters rallied in Dhaka, Bangladesh, during a half-day strike called to protest the U.S.-led invasion of Iraq. The strike, led by leftist parties and some small Islamic groups, closed schools and shops in Bangladesh's main cities, but failed to halt traffic or other activities.
Protesters at Dhaka University's campus burned straw-and-bamboo effigies of Bush and British Prime Minister Tony Blair.
U.S. embassies and diplomatic offices in some Persian Gulf countries remained closed Saturday, a day after violent protests in several Middle Eastern countries, including one in which three people were fatally shot outside the U.S. Embassy in Yemen.
"There is a great deal of anti-American sentiment prevailing in the region following the war in Iraq," said a U.S. official in Saudi Arabia to explain the decision to keep the embassy in Riyadh and consulates in Jiddah and Dhahran, as well as the American school, closed for another day.
A brief scuffle broke out outside the U.S. representative office in Taipei on Saturday when demonstrators tried to hand over a black coffin symbolizing war victims and police tried to stop them. Protesters included Americans, Europeans and Middle Easterners.
Demonstrators in Seoul, South Korea, condemned their country's decision to send non-combat troops to support the war in Iraq. About 2,000 activists rallied and waved placards that read, "No war" and "We oppose dispatching troops to the war." Many also carried roses.
At a later rally, protesters burned an American flag and a portrait of Bush. Some carried placards that read: "Iraq now, Korea next."
In India, hundreds of protesters were stopped from reaching the U.S. embassy in New Delhi. About 30 people, mostly women, who managed to get past the barricades were arrested and later released. Anti-war demonstrations also were reported in the southern Indian city of Hyderabad _ home to a sizable Muslim population.
The Indian government _ which supported a peaceful U.N.-led resolution of the conflict _ refused Saturday to officially condemn the war in Iraq despite requests by the opposition. An all-party meeting to discuss Iraq ended without any joint resolution after sides failed to reach a consensus on the choice of words.
India has called the U.S. attack unjustified, but opposition parties nevertheless accuse the government of leaning toward Washington.
Meanwhile, editorials in India's newspapers continued to criticize President Bush.
"The U.S. will win this war, but winning the hearts and minds of the swelling waves of anti-war protesters is another matter altogether," said the Times of India, the country's leading English daily.
About 6,000 people marched to the U.S. Embassy in Athens on Saturday for the third such protest in as many days, while in New Zealand, chanting demonstrators marched through the streets of the three main cities, calling for an immediate end to the conflict.
Protesters outside the U.S. Embassy in Wellington demanded that U.S. diplomats be expelled. Thousands more marched in Auckland and Christchurch.
New Zealand, which had called for a U.N.-mandated solution to the crisis, has refused to commit troops to the war against Iraq. Neighboring Australia, a staunch U.S. ally, has sent 2,000 military personnel.
Protester Trevor Richards of Wellington said the crowd took comfort from being part of "a worldwide movement, and they're part of the majority."
The war in Iraq also prompted Pakistan to canceled its National Day celebrations, which had been scheduled for Sunday.
"In view of the sad and tragic developments in Iraq and the deep anguish caused to the people of Pakistan, the government of Pakistan has decided to cancel the Pakistan day parade," said a government statement.
Afghan President Hamid Karzai, who was to be the guest of honor at the parade, indefinitely postponed his trip to Pakistan, a presidential spokesman in Kabul said.
Pakistan also postponed the South Asian Sports Federation Games, which were to begin on March 29, and put off the prime minister's trip to the United States, also scheduled for later this month.
(Copyright 2003 The Associated Press. All rights reserved.)
×
Most recent News stories