Estimated read time: 5-6 minutes
This archived news story is available only for your personal, non-commercial use. Information in the story may be outdated or superseded by additional information. Reading or replaying the story in its archived form does not constitute a republication of the story.
BAGHDAD, Iraq (AP) -- Heavy detonations, air raid sirens and crackling anti-aircraft fire thundered through Baghdad late Thursday in a second night of U.S.-led attacks on the Iraqi capital. A building in the main presidential compound caught fire.
With U.S. forces firing cruise missiles against Republican Guard strongholds, red and white tracers streaked across the sky and the flash of explosions was seen on the horizon.
Explosions also could be heard from the west side of the Tigris River, site of at least two of Saddam Hussein's palaces and the intelligence headquarters. Other blasts and large clouds of gray smoke appeared closer to the heart of the city.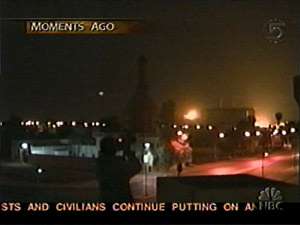 The anti-aircraft fire was reminiscent of -- but less intense than -- the fire that was seen in the skies over Baghdad during the 1991 Gulf War.
A 10-story office building that is part of the presidential compound on the west bank of the Tigris was on fire following two strong explosions in the area.
The missile strike began shortly after 9 p.m. Cruise missiles almost simultaneously hit the main presidential palace near the Tigris and the Ministry of Planning, which was in flames. Emergency vehicles pulled up to the ministry building.
Anti-aircraft artillery thundered sporadically, and some detonations resounded from the airport area. A witness said there was anti-aircraft artillery on the roof of the ministry building.
The all-clear siren sounded later and the city fell quiet except for the roar heard from generators. Streetlights stayed on and cars sped up the street. No people were seen on the streets.
The vast presidential compound is the official seat of power in Iraq, but is rarely used by Saddam. The grounds are home to several government departments and reports circulating in Baghdad suggested the building hit belonged to Deputy Prime Minister Tariq Aziz.
Official Iraqi radio in Baghdad, meanwhile, broadcast normally despite the raids and the city's lights continued to function. Telephone lines also appeared to be intact.
The radio broadcast patriotic songs, interrupted only for appeals to Iraqis to fight the invaders. "Strike with a hand of iron, for God is on your side," exhorted the announcer. "Turn Iraqi territory into a grave for the greedy invaders."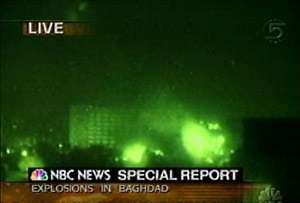 This round of attacks came at the end of a day that began with allied forces launching cruise missiles and precision-guided bombs. Baghdad had last been bombed in December 1998, when U.S. missiles hit military targets around the city to punish Iraq for blocking U.N. weapons inspections.
Hospitals treated some people with shrapnel wounds, and Iraqi officials said at least one person was killed Thursday.
Al-Shabab television, owned by Saddam's son, Odai, reported the Iraqi leader met Thursday with his top aides to "review military and other measures to resist the aggression." It said those attending the meeting included Vice President Taha Yassin Ramadan, Deputy Prime Minister Tariq Aziz and Foreign Minister Naji Sabri.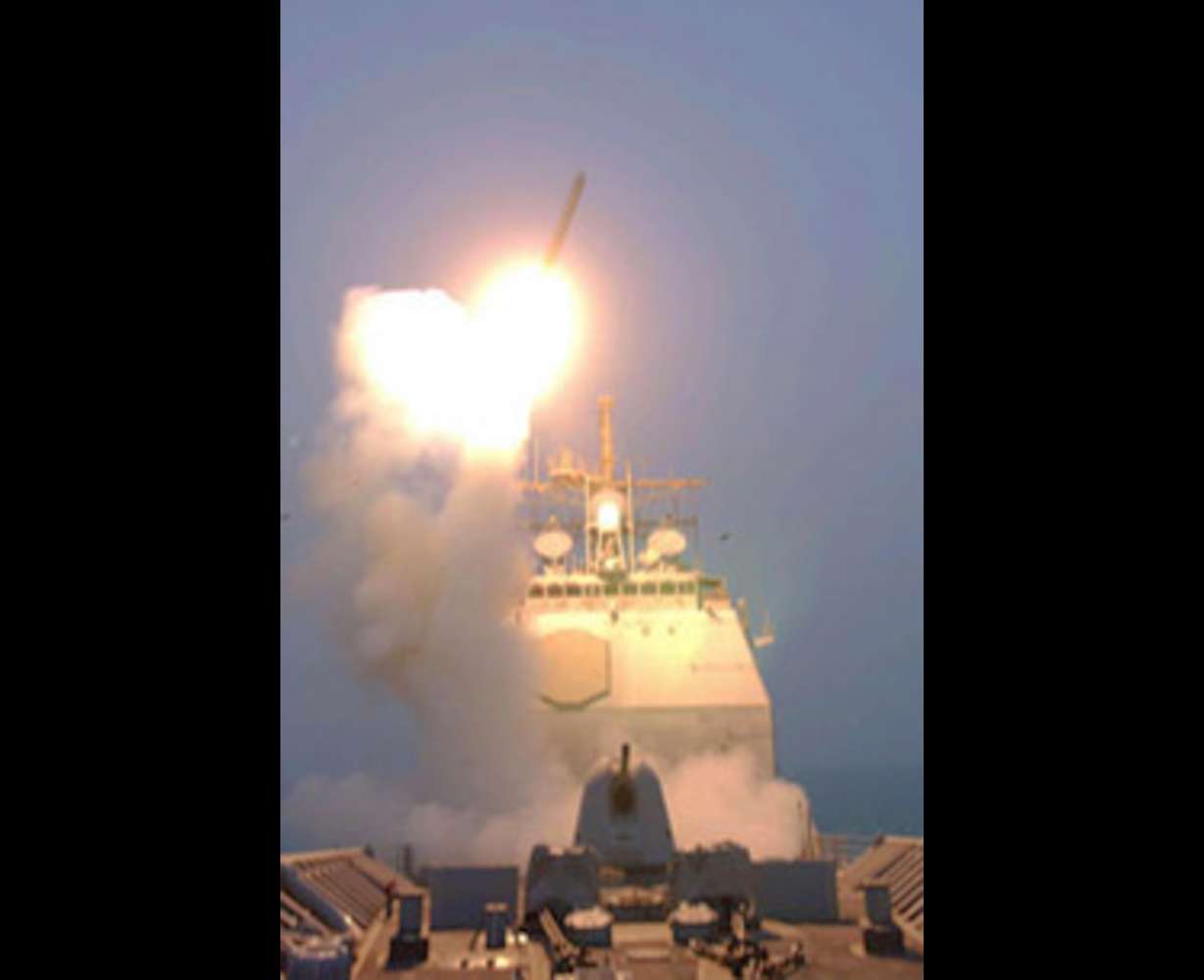 A subdued Saddam appeared on state-run television after the first airstrike on Baghdad, accusing the United States of a "shameful crime" and urging his people to "draw your sword" against the invaders.
"We will resist the invaders, and God willing, we will force them to reach the limits where they will lose their patience and thus lose the illusions they have entertained," the Iraqi president, in full military uniform, said in an address peppered with citations from the Quran.
Saddam and his sons were targeted in the opening hours of the war, after CIA Director George J. Tenet told President Bush that U.S. intelligence believed it had a probable fix on the residence where Saddam and other Iraqi leaders would be sleeping, U.S. officials said, speaking on condition of anonymity.
Later, a senior U.S. military official, speaking on condition of anonymity, said intelligence was picking up signs and "circumstantial evidence" that Saddam and his senior leadership were either incapacitated or out of communication with battlefield commanders. It was too early to say if they were killed or wounded.
Iraqi radio reported that Saddam's family home was targeted in the first bombing wave, along with the homes of his three daughters.
After the first round of attacks, nine people were in serious but stable condition with shrapnel injuries at Al-Yarmouk Hospital, Dr. Jamal Abed Hassan said. They included six members of one family that was having breakfast when their town 20 miles west of Baghdad was hit, he said.
"Bush, Bush, listen carefully. We all love Saddam Hussein," said one family member, Hamad Abdullah, who was injured in both legs.
Al-Kindi Hospital in the working class Al-Nahda district treated five people for wounds, including Iraqi TV journalist Anmar Waheed and his sister, who were hurt as they tried to reach a shelter, according to Dr. Osama Saleh al-Dilimi.
Thursday began with American messages broadcast on Iraqi airwaves: "This is the day you have been waiting for."
Air sirens first blared about 5:30 a.m., and soon strong explosions could be heard. Most seemed to be outside the capital, but one was followed by a ball of fire toward the southern part of Baghdad.
Allied warplanes also hit targets in western Iraq, bombing at least one mobile Scud missile site. Frequent sonic booms and aircraft sounds also could be heard in northern Iraq.
Information Minister Mohammed Saeed al-Sahhaf said coalition forces hit a customs compound and an Iraqi TV facility in western Iraq and jammed an Iraqi satellite TV station. He said two civilian locations were struck south of Baghdad.
(Copyright 2003 by The Associated Press. All Rights Reserved.)
×
Most recent News stories