Estimated read time: 1-2 minutes
This archived news story is available only for your personal, non-commercial use. Information in the story may be outdated or superseded by additional information. Reading or replaying the story in its archived form does not constitute a republication of the story.
Richard Piatt ReportingThey can scream, accuse and criticize all they want outside the LDS conference center, but protesters on conference weekend will have some new rules to follow too.
The sight on October 5, 2003, the church's last conference, was enough to anger dozens of Latter-day Saints--garments waved in mockery and insults shouted through a bullhorn.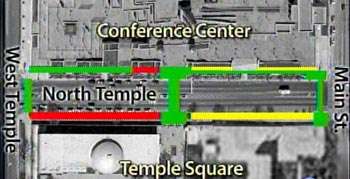 On April third and fourth of this year, there will be no bullhorn and space will be limited for those who want to protest.
Duane Baird, Salt Lake City Police Dept.: "For the last few months we've been working on this issue because of the problems we had last fall. So we want to make sure everyone's rights are protected. And we want to make sure the people who are protesting have the right to be heard."
The protesters will be restricted to a few areas, one half of the block across the street from the conference center, and a portion of the block directly in front. A group of ministers sympathetic to conference goers have also reserved their own space. All other areas are 'no-standing zones' where people will have to keep moving.
There will also be a heavy police presence in the area that weekend.
Outside the conference center today, people seemed to like the idea of a compromise---even though they find the protesters offensive.
Randall Willson, Sandy: "I think it's a good compromise. It keeps everything civil, everyone in their proper place."
Rose Willson, Sandy: "They can choose to say whatever and it doesn't infringe on people's right to come and go without feeling trapped or intimidated."
This year, police are hoping a little separation will reduce the likelihood of a repeat of last October's problems.
×
Most recent News stories