Estimated read time: 4-5 minutes
This archived news story is available only for your personal, non-commercial use. Information in the story may be outdated or superseded by additional information. Reading or replaying the story in its archived form does not constitute a republication of the story.
WASHINGTON (AP) -- The FBI issued a bulletin Friday announcing a worldwide search for four men in connection with possible terrorist threats against the United States.
The FBI posted the bulletin on its Web site and circulated it among law enforcement agencies after recent intelligence indicated the four could be involved in an unspecified plot against U.S. interests, said a law enforcement official who spoke on condition of anonymity.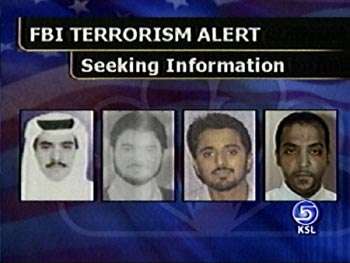 The FBI had been seeking information about all four -- two Saudis, a Moroccan and a Tunisian -- for months, but the new information led officials to intensify the search, said a second official, also on condition of anonymity.
None of the four are believed to be in the United States.
The men being sought are Adnan G. El Shukrijumah, 28, a Saudi native with ties to South Florida; Karim El Mejjati, 35, a Moroccan who holds a French passport and last entered the United States between 1997 and 1999; Zubayr Al-Rimi, 29, a Saudi; and Abderraouf Jdey, 38, a Tunisian who may have a Canadian passport.
Officials have previously described El Shukrijumah as a possible al-Qaida operational planner similar to Mohamed Atta, a key organizer of the Sept. 11, 2001 attacks. Details about the other three were not immediately available.
The bulletin comes as the FBI raises concerns that terrorists might try to poison food or water supplies, and senior bureau officials say that al-Qaida is determined to attack Americans at home even though the organization appears to have a relatively small U.S. presence.
The FBI has not detected any individuals or cells actively planning attacks such as those almost two years ago that killed some 3,000 people in New York, Washington and Pennsylvania. Most al-Qaida operatives in the United States provide logistical support such as travel documents, recruitment and fund raising, said Larry Mefford, the FBI's chief counterterrorism official.
"My view is, it's very small but it does exist," Mefford said of al-Qaida's U.S. presence. "Our concern continues to be what exists in the United States that we're not aware of."
Separately, the Homeland Security Department is advising federal, state and local security officials to evaluate their security procedures in the run-up to the anniversary of the Sept. 11 attacks, but said current intelligence doesn't warrant an increase in the national threat warning.
The current code yellow alert, which signifies an elevated risk of terrorist attack, is the middle level on the five-color scale.
The Homeland Security advisory issued on Thursday, says, "We remain concerned about al-Qaida's continued efforts to plan multiple attacks against the U.S. and U.S. interests overseas." It adds that they have no specific information on individual targets or dates for any attack.
Recent arrests of senior al-Qaida members appear to have slowed some of their operational planning, the advisory says.
However, it notes that al-Qaida operatives are still looking to conduct an attack similar to the Sept. 11 strikes, using hijacked aircraft as missiles.
The FBI's Mefford said al-Qaida remains America's most dangerous terrorist foe because of the group's tenacity, patience and willingness to use tactics, including weapons of mass destruction, that demonstrate "they have no inhibitions and they have no rules."
The Homeland Security advisory says intelligence indicates operatives may try to hijack flights that fly near, but not into, the United States, so they will not have to pass the increasingly stringent requirements to board a U.S.-bound flight.
It also warns of truck bombs at infrastructure targets, like power plants, petrochemical facilities, transportation hubs, dams and food distribution centers. Lightly protected targets like restaurants, hotels and apartments are also possible targets, it says.
Terrorists could also try unusual approaches to artfully conceal suicide devices, the advisory said. "Male bombers may dress as females in order to discourage scrutiny."
The FBI's latest weekly bulletin to state and local law enforcement agencies cautions terrorists might use two naturally occurring toxins -- nicotine and solanine -- to poison U.S. food or water supplies. Nicotine is found in tobacco plants and solanine in potatoes that are old or have been exposed to sunlight for a long time.
The bulletin, obtained Thursday by The Associated Press, says that terrorist manuals and documents recovered at al-Qaida sites in Afghanistan contain references to use of both substances as poisons.
The FBI said there are no known uses of either toxin by al-Qaida or other Islamic extremist groups, and there is no intelligence indicating such an attack is imminent. But the bulletin noted a Michigan man pleaded guilty in May to lacing 250 pounds of ground beef with an insecticide containing nicotine, sickening 92 people, in an attempt to get a supermarket co-worker in trouble.
(Copyright 2003 by The Associated Press. All Rights Reserved.)
×
Most recent News stories