Estimated read time: 6-7 minutes
This archived news story is available only for your personal, non-commercial use. Information in the story may be outdated or superseded by additional information. Reading or replaying the story in its archived form does not constitute a republication of the story.
RIYADH, Saudi Arabia (AP) -- Saudi Arabia acknowledged gaps in security and revealed Wednesday that 15 Saudis carried out the deadly car bomb attacks in Riyadh -- a startling admission considering the Arab kingdom took five months to confirm most of the Sept. 11 suicide hijackers were Saudi.
Foreign Minister Prince Saud al-Faisal also said this week's attacks, blamed on Osama bin Laden's al-Qaida terror network, were designed to drive away foreigners, but he insisted Saudi Arabia is safer now than before the car bombings.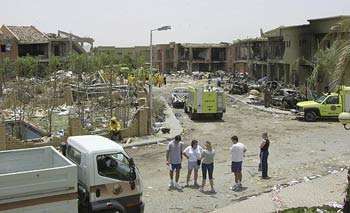 Still, some foreigners went ahead with plans to leave following Monday night's attacks, which targeted three residential compounds where expatriate executives and professionals live, killing 34 people -- including nine attackers -- and injuring nearly 200.
"I'm terrified and I'm really scared. I think we need a break from all of this," said Tanya Scott, a 36-year-old Australian flight attendant.
The British School in Riyadh, located in one of the targeted compounds, closed and some teachers left. The U.S. Embassy was closed for security reasons Wednesday and the State Department ordered home nonessential diplomats and family members.
In Washington, State Department spokesman Philip T. Reeker put the U.S. toll at eight dead and 17 wounded -- at least one critically.
Saudi Arabia relies greatly on its population of 6 million expatriate workers, including about 35,000 Americans and about 30,000 Britons, in its communications, power, technology, banking and other sectors. The kingdom counts on many U.S. experts for its oil industry.
Saudi officials, stung by criticism that they did too little to combat militancy ahead of the Sept. 11 attacks, have taken pains to show unusual openness and determination in the wake of Monday's attacks.
Crown Prince Abdullah went on national television Tuesday, vowing to "put an end" to those behind the attacks.
Along with reassuring foreign business, the kingdom's leadership is eager to see that the attacks do not strain ties with Washington, where some blame the kingdom's strict version of Islam for breeding the likes of Saudi-born bin Laden and the Sept. 11 hijackers.
Later Wednesday in an interview with CNN, Prince Bandar said the Saudis would be relentless in tracking down the attackers, even though most of them were from the kingdom.
"We have lots of evidence that this group is from al-Qaida. And we are determined to fight them because they are against, not just Americans. They're against Saudis, Arabs, Muslims. ... We are going to go after them until we put an end to this evil cancer."
The attacks came as the United States was withdrawing most of its 5,000 troops from Saudi Arabia, a presence bin Laden has used as a pretext for attacks. The al-Qaida leader contends the U.S. military presence in Saudi Arabia since the first gulf war defiles holy soil because the country is guardian of Islam's most sacred shrines at Mecca and Medina.
"Saudi Arabia must deal with the fact it has terrorists inside its own country," White House spokesman Ari Fleischer said. "Their presence is as much a threat to Saudi Arabia as it is to Americans."
U.S. Ambassador Robert Jordan said the United States sought in vain before Monday to get security tightened around Western residential compounds in Riyadh amid warnings of possible attacks.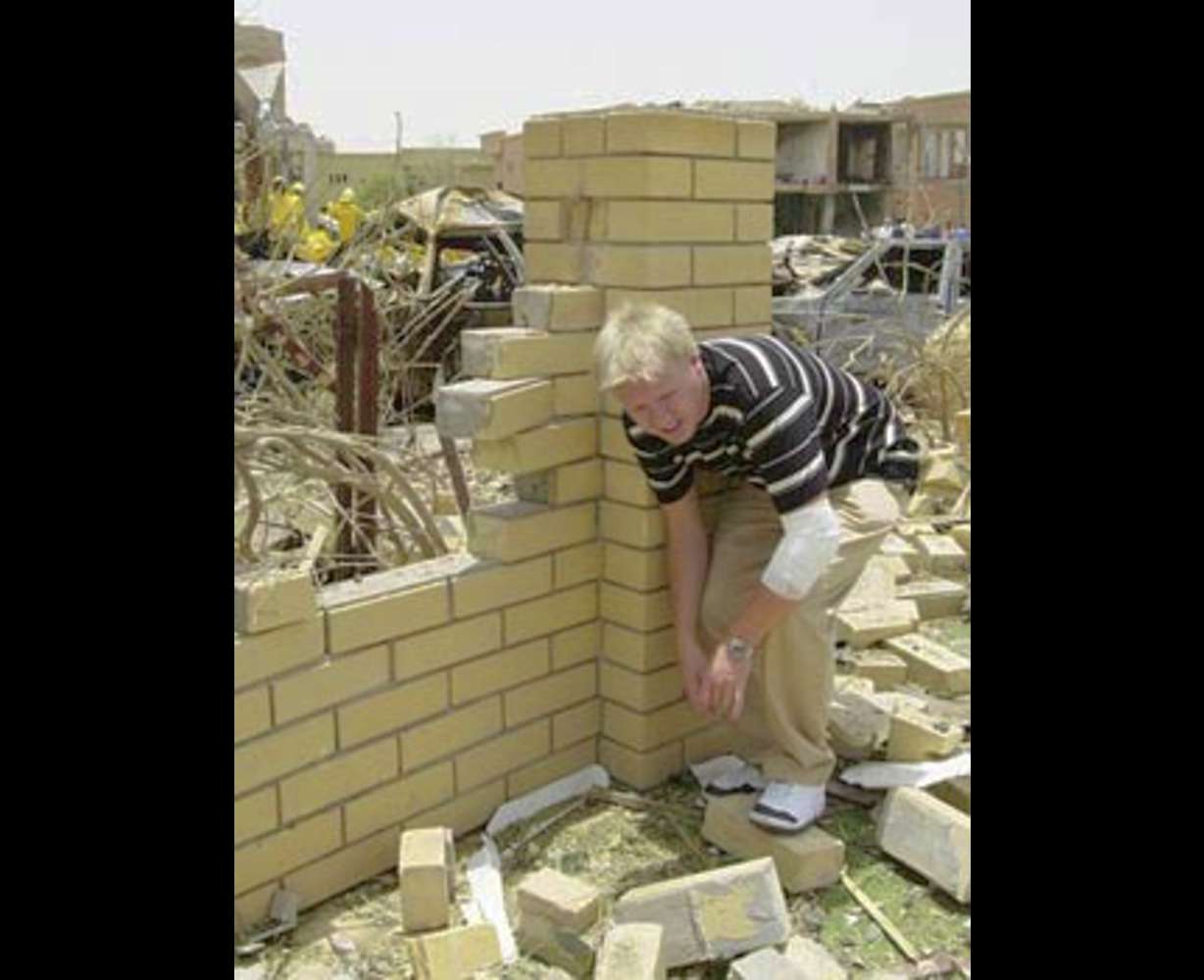 "As soon as we learned of this particular threat information, we contacted the Saudi government," Jordan said on CBS' "The Early Show" Wednesday. "We continue to work with the Saudis on this, but they did not, as of the time of this tragic event, provide the additional security we requested."
Prince Saud told reporters he had "not heard of this" but said the government has always fulfilled any requests by the American or other embassies for additional security.
However, he admitted there were security lapses, saying Saudis should "look within themselves and see whether we have done enough to preserve the security of our nation."
Asked whether that was an admission of lapses in security, Saud said: "The fact that the terrorism happened is an indication of shortcomings and we have to learn from our mistakes and seek to improve our performance in this respect."
Saud insisted the attacks would not hurt U.S.-Saudi ties, saying countries who are terror victims "feel sympathy for each other."
He refused to give details on the 15 Saudis he said took part in the attacks or say what happened to the six who survived.
"Ironically it was 15 Saudis who did what they did in America and 15 Saudis who did what they did in Saudi Arabia," said Saud. Of the Sept. 11 hijackers, 15 were Saudi and four were from other Arab countries.
"Certainly it goes to the heart of the argument that nobody could accuse us of being responsible for attacking our country," he added.
Saud refused to respond to a question on how much authority an FBI team that's heading to the kingdom will have, an issue that could become contentious if the Americans feel they are not getting full cooperation.
Washington and Riyadh have been at odds in the past over how to handle terror investigations, including probes into the deadly 1996 Khobar Towers attacks in which the United States expressed frustration at the lack of access to witnesses and suspects.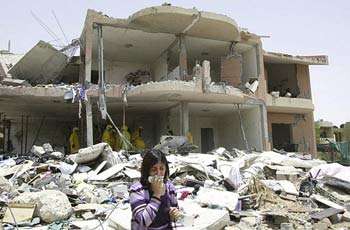 Some 2,000 Saudi civil defense workers searched for evidence at the sites of Monday's attacks. Investigators wearing surgical gloves checked the rubble at the al-Hamra compound in northeastern Riyadh, where a car-bomb left a crater 20 feet wide and 3 feet deep.
The Saudi government has said the attacks are connected to 19 al-Qaida operatives who engaged in a gunfight with police in Riyadh on May 6 and escaped, though one later surrendered. Interior Minister Prince Nayef said the 19 are believed to take orders directly from bin Laden.
Besides the eight Americans, those killed Monday were seven Saudis, three Filipinos, two Jordanians, and one each from Australia, Britain, Ireland, Lebanon and Switzerland, according to the Interior Ministry.
Prince Saud insisted the kingdom is "a more secure environment after the attack." More checkpoints can be seen on the streets and some hotels have posted guards to search luggage.
Asked whether the attacks were driving out foreigners, Saud said: "This is the intent of the perpetrators.
"Those who leave we don't blame them. Those who have friends here will sorely miss them. But we hope ... if they go they only go for a short time and come back," said Saud.
Mike Thomas, a 28-year-old tennis instructor from Wales who visited one of the targeted compounds to check on his students, said he was "very angry and very hurt. I can't live here anymore."
"Those people who have done this believe in nothing but hatred," he said.
But Andy Smith, a 35-year-old British banking consultant, said he was staying.
"It's obviously not nice but life goes on," he said. "We had the IRA blowing things up in London so we're used to terrorist activities."
Experts on Middle Eastern security said it was unlikely the attacks would lead to an exodus of foreign workers, but they said the Saudi government must show foreign companies it can deal with the threat.
"The psychological impact of this attack is huge," said Kevin Rosser, a global terrorism analyst at the Control Risks Group in London, which provides security advice to companies.
"Businesses in the country have been on edge for the last 21/2 years as there have been a series of small-scale attacks on foreigners. We have not seen an exodus of expats from the kingdom, but the Saudis are going to have to demonstrate they are on top of the problem."
(Copyright 2003 by The Associated Press. All Rights Reserved.)
×
Most recent News stories