Estimated read time: 1-2 minutes
This archived news story is available only for your personal, non-commercial use. Information in the story may be outdated or superseded by additional information. Reading or replaying the story in its archived form does not constitute a republication of the story.
(KSL News) A paraglider was hospitalized this evening after making a hard landing in the hills above Salt Lake's Avenues.
The hills above the upper Avenues are a popular spot for hiking and biking. Today was especially busy because of the warm weather.
One family was on the trail when they looked up and noticed a man paragliding. They started taking photos with their digital camera. They soon realized the paraglider was in trouble.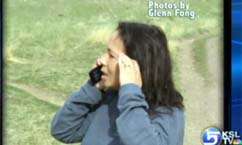 Kiefer Nunley said, "[He] kept swinging side to side. His feet were dangling down and he didn't have control. Then he hit the ground and he bounced. Then he was just laying there."
Kiefer and Sawyer Nunley realized the man was hurt. Their mom called 911. Other people in the area ran up to the man to see if he was OK.
It's unclear what caused the pilot to lose control.
"It was like he was falling, not really gliding," Nunley said. "He just started falling down."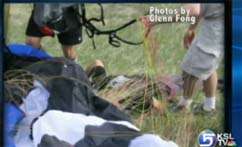 Dennis McKone, assistant chief with the Salt Lake City Fire Department said, "He dropped 30, 40, 50 feet, hit on his feet, which made him hit the hillside and then fall forward. Our medics reached him. He was conscious, breathing, talking with them. [He] complained of severe back pains."
The man was taken by helicopter to LDS Hospital.
The area above the upper Avenues is not as popular for paragliding as Point of the Mountain, but people have been seen paragliding in the area from time to time.
×
Most recent Utah stories