Estimated read time: 2-3 minutes
This archived news story is available only for your personal, non-commercial use. Information in the story may be outdated or superseded by additional information. Reading or replaying the story in its archived form does not constitute a republication of the story.
Alex Cabrero ReportingThe pictures we're seeing of the damage left behind by Hurricane Katrina are devastating, but they're mostly shot by photographers from news stations. One family now at Camp Williams took their own pictures and shared them with our Alex Cabrero.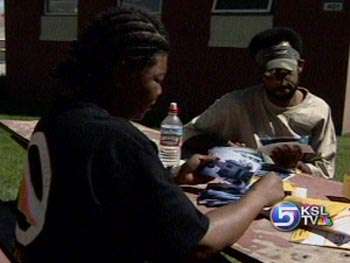 Tanya Andrews: "This is Broad Street. This is a Main Street here."
Even a cheap disposable camera can take pictures that'll leave you breathless.
Adrian Andrews, Hurricane Evacuee: "I didn't even know they took this, and I'm looking at it, and I'm, it's chills running through my body right now, that I was in that deep water like that."
For the Andrews family it's still like a dream, a nightmare, but you can't take pictures of something that didn't happen.
Larry Andrews: "It's just amazing we survived this."
Now they're at Camp Williams. They took the pictures as they were waiting to be rescued from their New Orleans neighborhood. We had their film developed and today they saw for the second time what they did to survive.
Tanya Andrews: "We just wanted to stay dry."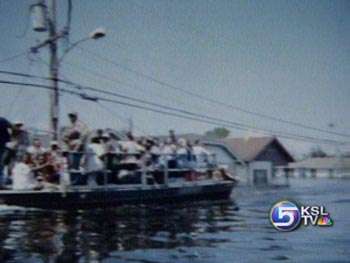 A week and a half ago Tanya Andrews couldn't tell you the last time she cried. Now she can't tell you the last time she didn't.
Tanya Andrews: "My car is in at least three feet underwater, right here."
But more than just pictures are the emotions, the memories. There's the neighborhood ball field, the make-shift barge that just didn't have enough room, and the helicopter that flew past them again, leaving them alone for another dangerous night.
Tanya Andrews, Hurricane Evacuee: "They were shooting guns, people were screaming, talking crazy. You didn't know which way the bullets were coming. All you heard was pop, pop, pop. And you know, you ducked. It's dark."
Stories and images that have become too familiar for us the past week that'll never become familiar to them.
Tanya Andrews: "We was in the water at least four days."
The Andrews say they'd like to go back to New Orleans one day, even make it home again once things start getting better.
×
Most recent Utah stories