Estimated read time: 4-5 minutes
This archived news story is available only for your personal, non-commercial use. Information in the story may be outdated or superseded by additional information. Reading or replaying the story in its archived form does not constitute a republication of the story.
PROVO -- After a record-breaking season, BYU men's basketball Head Coach Dave Rose took some time to reflect on his first season since being successfully treated for pancreatic cancer.
---
I always believe the next team will be better, no matter what the situation is.
–BYU Head Coach Dave Rose
---
The Cougars won a team record 30 games, broke a 17-year streak of futility in the NCAA tournament and produced a candidate for several national awards. Despite those successes, that isn't what Rose said he considers his team's greatest accomplishments.
"There were so many unforeseen challenges that we had to face with injuries and illness, and guys missing games. Other players had to step up," Rose said. "The thing that I'll remember most about this team is how proud I am of these players for being able to come together. It's a really tight knit group that just overcame challenge after challenge to be really successful."
Related:
Whether or not the Cougars will be able to maintain their success is the question. The Cougars lose four players in starting center Chris Miles (graduation), starting guard Tyler Haws (LDS mission), team captain Lamont Morgan (graduation) and BYU's all time leader in wins, Jonathan Tavernari (graduation).
Despite the losses, the Cougars have talented players set to join the team and help fill the void left by the departing players. Considering the incoming and returning talent, Rose said he expects the team to be able to improve.
Overall, Rose said he is excited about the direction his program is heading.
"Right now I think we're in a pretty good cycle with really good players and local players that we've been able to get. So right now I think we're in pretty good shape," Rose said. "I hope it's a program that (the fans) can really be proud of. These players really play hard and compete. They're good students we do our best to try to represent the university the best that we can."
Here's a look at the players BYU will welcome to campus next season:
Kyle Collinsworth
At 6-foot-6 and possessing exceptional ball-handling skills, Kyle Collinsworth is a different kind of player than the Cougars have had recently. Collinsworth was selected as Utah's Mr. Basketball for the 2009-10 season by the Deseret News, averaging 23.7 points, 10.4 rebounds and eight assists per game.
Provo High School ran its offense through Collinsworth, as he served as the team's primary ball handler. Although much of his game centers around penetrating to the basket, the departing high school senior also boasts a solid perimeter game, shooting 51.2 percent shooting from 3-point range.
Among his many accolades, Collinsworth was selected to compete in the High School Academic All-American Classic in Los Angeles May 1.
Anson Winder
Anson Winder is an extremely athletic combo guard from Las Vegas, who helped lead his Bishop Gorman team to a Nevada state title. Winder's high school coach is BYU Associate Head Coach Dave Rice's brother, who also coached departing senior Jonathan Tavernari.
At 6-foot-3, Winder brings good size to the Cougar backcourt and has been a winner at the high school level; something that Rose has frequently said he values in recruits. Despite his potential, Winder might be another guard who has a hard time breaking into the regular rotation due to the Cougars' depth at the guard positions.
Chris Collinsworth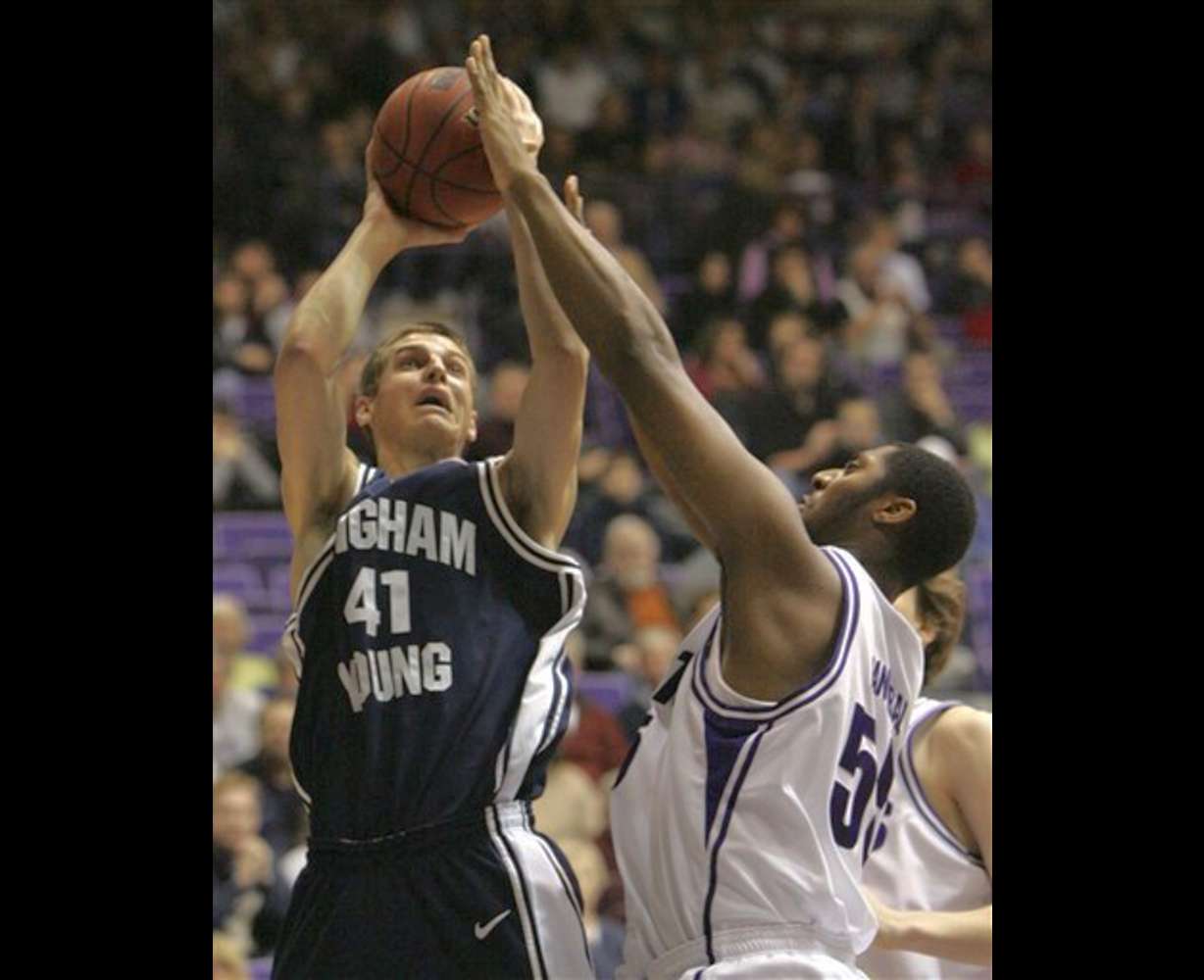 Chris Collinsworth is Kyle's older brother. The will-be sophomore is set to return from serving a LDS mission in Sydney, Australia in April and will join the team in the fall.
The older Collinsworth gave Cougar fans quite a scare early in his mission when he was attacked and stabbed by a group of men in Sydney. He is reportedly fully recovered.
Chris is known especially as a rebounder, and averaged 4.8 boards per game as a true freshman. Rose said Collinsworth has added some weight on his mission, and that he expects the added size to be a positive for his 6-foot-9 forward. He was also a Provo High School standout and was recruited by programs such as North Carolina, Arizona, Arizona State and West Virginia. His versatility is what made him so sought after, as he can play both in the post and on the perimeter.
Nick Martineau
Returning missionary Nick Martineau didn't see much time as a true freshman, but he came out of Davis High School with several accolades. Martineau was a McDonalds All-American nominee, region MVP, as well as UHSBCA All-Star recognition.
Martineau is a true point guard and with the level of play the Cougars have seen from Jimmer Fredette and Mike Loyd Jr., Martineau's role should be limited next season.
×
Most recent Utah stories