Estimated read time: 2-3 minutes
This archived news story is available only for your personal, non-commercial use. Information in the story may be outdated or superseded by additional information. Reading or replaying the story in its archived form does not constitute a republication of the story.
John Daley Reporting A key vote this week in Logan is regarded by some as a potential turning point when it comes to where Utahns will get their power in the future. The city council there voted to look to renewables rather than invest in a giant central Utah coal-fired power plant.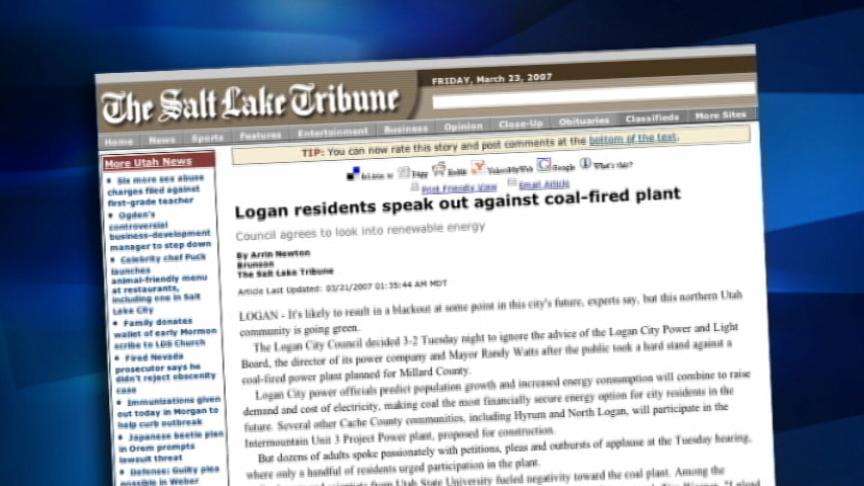 The winds of change are blowing in the energy world. One question for the future is where do coal and coal-powered electric plants fit in?
Worried about global warming, and a chief culprit contributing to it carbon emissions from coal plants, Logan's city council voted to turn down new long-range contracts for Intermountain power's new unit in Delta.
"We are literally on the verge of a major energy revolution in this country," said Tim Wagner, director of Utah Smart Energy Campaign. "I firmly believe that. Not only for the electric sector, but transportation as well. People are figuring out that we need to go in a different direction."
Sarah Wright, the executive director of Utah Clean Energy, said, "The governor's coal report says we have 15 to 20 years of readily accessible, easily mineable coal. And so that's not very long. If you're adding new power plants that coal is going to be depleted even faster."
But they don't call it king coal for nothing. The U.S. gets more than half its electric power from coal-fired power plants. In Utah, the figure is even higher, 95%.
An official with a municipal power group UAMPS one of Intermountain's main customers says the new unit is "going to be built and will be one of the cleanest plants in the U.S." An Intermountain executive says the future for coal is bright because renewables just aren't ready to pick up the load. "It certainly can't fill even a significant percentage of the demand for electricity," Reed Searle, general manager of Intermountain Power said back in November 2006.
Utah's biggest source of carbon emissions is coal-fired power "We have to be part of the solution," Governor Huntsman said, "and we have to be part of insuring that we have standards going forward that improve the situation."
How to go forward will be topic #1 next month when the governor holds an energy summit next month.
Another closely watched decision coming soon: the city of Bountiful is expected to decide in the next few weeks if it will renew its long-range contracts with Intermountain Power.
×
Most recent Utah stories