Estimated read time: 3-4 minutes
This archived news story is available only for your personal, non-commercial use. Information in the story may be outdated or superseded by additional information. Reading or replaying the story in its archived form does not constitute a republication of the story.
SALT LAKE CITY -- Law enforcement agencies say they're looking into threatening letters received by at least two western governors -- in Utah and in Nevada -- and possibly governors in all 50 states.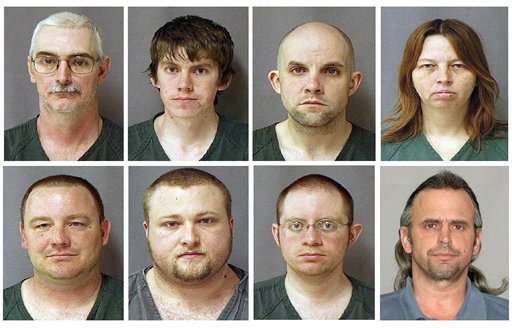 The letters come as a prominent national watchdog warns about a growing danger of anti-government violence.
Gov. Gary Herbert's spokesperson said the governor's office received that letter on Tuesday.
Related:
"The governor's office receives quite often different letters from groups that aren't necessarily well organized. We are looking at this one a little bit closer for some specific reasons I can't get into because of the investigation," Utah Highway Patrol spokesman Sgt. Jeff Nigbur said. "[The letter] hasn't necessarily threatened violence of any nature, but just due to the organization of the particular letter we want to take all of the precautions that we need to."
Nigbur says the FBI is investigating the letter. He revealed little about its content or likely source, but says security around the Capitol and around the governor is being tightened.
"I'm not sure if it's coming from the same group or separate individuals, we're just really not sure about that right now," Nigbur said. "Obviously there's rumors out there that these letters that are going throughout the nation to different governors are the same group. It's definitely something we're looking into."
Security at Nevada's Capitol was beefed up after its governor received a letter telling him to resign and swear allegiance to a right-wing group that planned to "commandeer" state offices.
What is... Hutaree?

Hutaree is Christian miltia group based in Adrian, Michigan. Hutaree members consider themselves soldiers who are readying themselves for a battle with the Anti-Christ. According to its website, Hutaree means "Christian warrior".

According to a governor's aide the letter is linked to the right-wing, anti-government movement known as "Sovereign Citizens."

UHP says they're not sure if the letters received in Utah and Nevada came from the same source.

Nevada Gov. Jim Gibbons said, "We've received word for the FBI that myself and 49 other governors should be looking at, in the short term, an increase in their security."

The letters come just days after the FBI arrested militia members in the Midwest planning to kill a police officer and set off homemade bombs at the subsequent funeral to kill additional officers before staging an uprising.

A leading organization tracking hate groups says it is seeing an explosive surge in anti-government extremist groups not seen since the mid-90s.

"That threat to our governors coupled with the arrests of the Hutaree militia up in Michigan shows that we're in a period that could create quite a bit of violence," said Heidi Beirich, director of research at Southern Poverty Law Center. "We're very concerned we're going to see violence on the level of Oklahoma City. That's the biggest concern here: a big domestic terror attack."

An FBI spokesperson in Washington says "while there does not appear to be credible or immediate threats of violence" they're "assessing the matter."

-----

Story compiled with contributions from John Daley and Paul Nelson.

×
Related links
Related stories
Most recent Utah stories