Estimated read time: 2-3 minutes
This archived news story is available only for your personal, non-commercial use. Information in the story may be outdated or superseded by additional information. Reading or replaying the story in its archived form does not constitute a republication of the story.
Hundreds of people marched from downtown Salt Lake to Capitol Hill in support of a number of bills set to go before the Legislature. The bills all aim to increase rights and protections for gay and lesbian Utahns.
With two days to go before the start of the 2009 legislative session, the six bills are getting a lot of attention. They touch on things from health care for gay families to new anti-discrimination laws.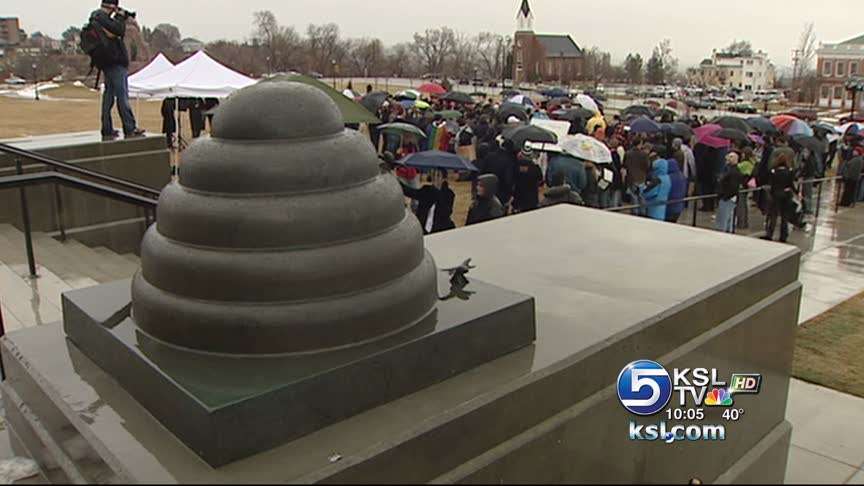 A cry was heard from downtown to Capitol Hill in Salt Lake today: "What do we want?" "Equality." "When do we want it?" "Now!"
One participant said, "I am here looking for common ground with others, common ground protecting human and civil rights for people like me."
The so-called Common Ground Initiative is a bundle of six bills set to go before the Legislature this upcoming session. They touch on fair housing and employment, expanded health care for gay families, inheritance rights for partners, a domestic partner registry, and a revision in wording to amendment three, which would still define marriage between a man and a woman.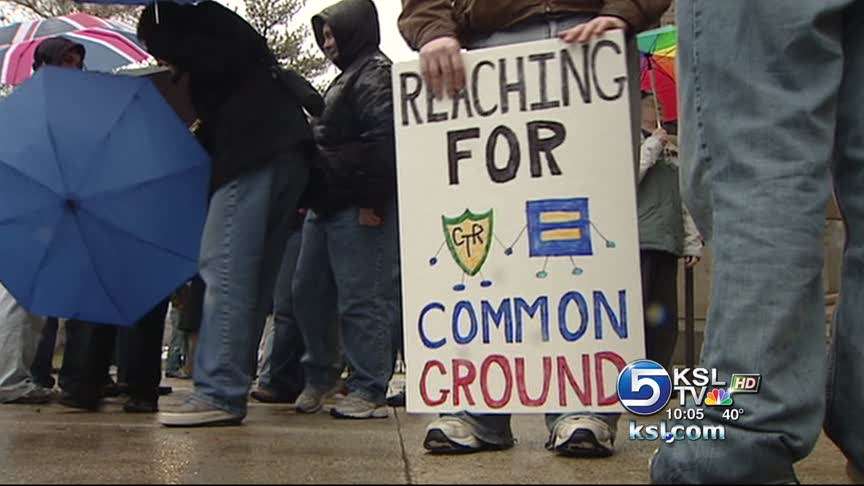 Event organizer Jacob Whipple said, "We want Utahns to see that people want them to pass, that need them to pass so we have the protections and benefits that will help our families."
The bills hit close to home for nearly everyone involved in the march. Nate Bassett said, "Nobody believes anybody should be fired from their jobs for being gay or transgendered. They shouldn't be evicted from their homes."
Adair Kovic said, "If I can be under my partner's medical insurance, that will give me more career options, more location options, a fallback if I get fired from my job."
Between speakers and amid homemade signs, there was a feeling of optimism and hope that, at the very least, the bills will raise awareness of the Common Ground Initiative.
Rev. Sean Dennison of the South Valley Unitarian Universalist Society said, "I don't know that we'll get it all accomplished this legislative session, but we'll make great strides."
No one opposing the bills appeared at the rally today. However, they did show up on our comment boards. One person wrote, "Do not condone their behavior. Do not give them any special sanctions or rights."
Another wrote, "Legislators must stand their ground in the face of this immoral threat to our society."
Last week, majority Republicans said anti-discrimination measures will get a fair debate. "Health care and the right to inherit, I think, are issues that will receive a lot of weight. The other issues dealing with the rights of marriage, I don't think those are going to pass," said Sen. John Valentine, R-Utah County.
E-mail: sdallof@ksl.com
×
Related stories
Most recent Politics stories