Estimated read time: Less than a minute
This archived news story is available only for your personal, non-commercial use. Information in the story may be outdated or superseded by additional information. Reading or replaying the story in its archived form does not constitute a republication of the story.
Family members of Utah's newest lawmakers say the budget woes make this quite the time to get started, but they feel excited about their new jobs.
More than a dozen new legislators raised their hands and were sworn in while their family members watched above in the balcony
As Tenille Mortenson said, "It's cool."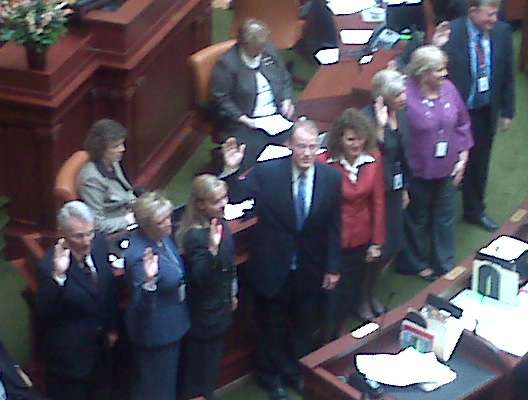 Tenille's grandma Susan Duckworth is a new representative. "She's just really excited and happy she gets to do it this year," she said.
Duckworth's grandfather, Carl Duckworth, served five terms from Magna.
"I don't think she has a lot of worries. I think she's just excited to be up here and is ready to serve." Melissa said.
Bob Wallis used to go sit in the balcony with his dad Brent. Brent now represents Ogden. "I'm still up here in the balcony, but it's kind of fun and we're excited for him, and I know he's excited to get started," Bob said.
The family members say their new lawmakers want to fulfill their campaign promises, even in this skinny budget year.
E-mail: mrichards@ksl.com
×
Most recent Politics stories