Estimated read time: 3-4 minutes
This archived news story is available only for your personal, non-commercial use. Information in the story may be outdated or superseded by additional information. Reading or replaying the story in its archived form does not constitute a republication of the story.
SALT LAKE CITY -- Former GOP presidential candidate Mitt Romney was back in Utah Tuesday, this time to endorse Sen. Bob Bennett, who is seeking a fourth term in 2010.
Romney endorses Bennett
Bennett hopes to discourage potential challengers from his own party. Romney praised Bennett's smarts, integrity and experience. "This is a person that has real substance, real character, real quality," Romney said. "You go back to the United States Senate. People back there know this man and respect him."
He added, "If the person, like Bob Bennett, lines up with you on issues and ideas, also has the commitments to Republican principles and values, has the intelligence and also the muscle, that's the person I'd want to have representing me."
Bennett said, "It's an honor and a pleasure to have him here in the state of Utah. And at the risk of being a little bit pushy, I would ask you follow his advice with respect to the 2010 election."
Romney and Bennett on future plans
Both men faced questions about their future. Romney couldn't escape presidential speculation while he was in town. He said, "I'm keeping the door open, I'm just not walking through it. And time will tell what the future holds."
Bennett said he was planning on a stiff challenge in his re-election bid, which may involve Utah Attorney General Mark Shurtleff. "I won't try to predict what any of my opponents, potential opponents, may or may not say," Bennett said.
He added, "I'm perfectly happy to have anybody who wants change, sit down and talk with me about what I plan to do in the next six years. I recognize that historians may be interested in what I've done in the first three terms, but the voters are interested in what I will do in the next one."
Shurtleff considering running against Bennett
Utah Attorney General Mark Shurtleff says he has been encouraged to run against Bennett. "I am seriously considering it, but I have not made a decision yet. I will after the end of April. And then I will be very, very busy, obviously, raising money because that will be key in order to compete against a well-run campaign and a very, and a popular senator."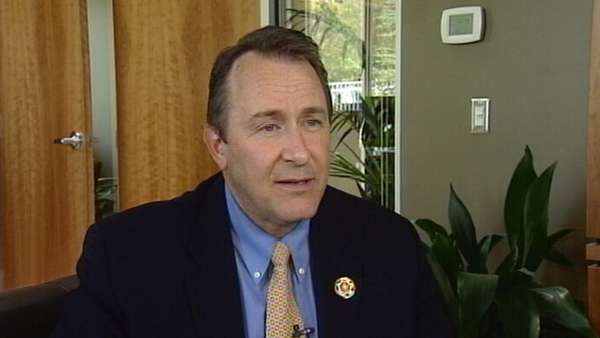 The endorsement from Romney, a presidential hopeful in the last election, is expected to provide a significant boost for Bennett. Romney won the state's presidential primary with 90 percent of the vote, and he's still highly popular here.
There's no word from Democrats about possible candidates from their party.
Romney and Bennett attended a luncheon at the Little America Hotel. They appeared at a public discussion hosted by KSL Newsradio's Doug Wright earlier in the day.
They hoped to raise $500,000 during Romney's visit.
------
Story compiled with contributions from John Daley,Randall Jeppesen,Paul McHardy and Andrew Adams.
(Copyright 2008 Bonneville International Corporation. All rights reserved. This material may not be published, broadcast, rewritten, or distributed. AP contributed to this report.) AP Rights & Restrictions
×
Related stories
Most recent Politics stories