Estimated read time: 3-4 minutes
This archived news story is available only for your personal, non-commercial use. Information in the story may be outdated or superseded by additional information. Reading or replaying the story in its archived form does not constitute a republication of the story.
SALT LAKE CITY (AP) -- Republican Utah Attorney General Mark Shurtleff sent out half a dozen Twitter messages on Tuesday revealing details of his yet-to-be announced U.S. Senate campaign that were solely intended for his spokesman.
Shurtleff has repeatedly said he's interested in challenging fellow Republican Bob Bennett, and he is expected to announce his candidacy next week.
In messages accidentally sent to more than 1,600 followers, Shurtleff wrote about fundraising, being endorsed by a legislative conservative caucus as well as other senators and representatives.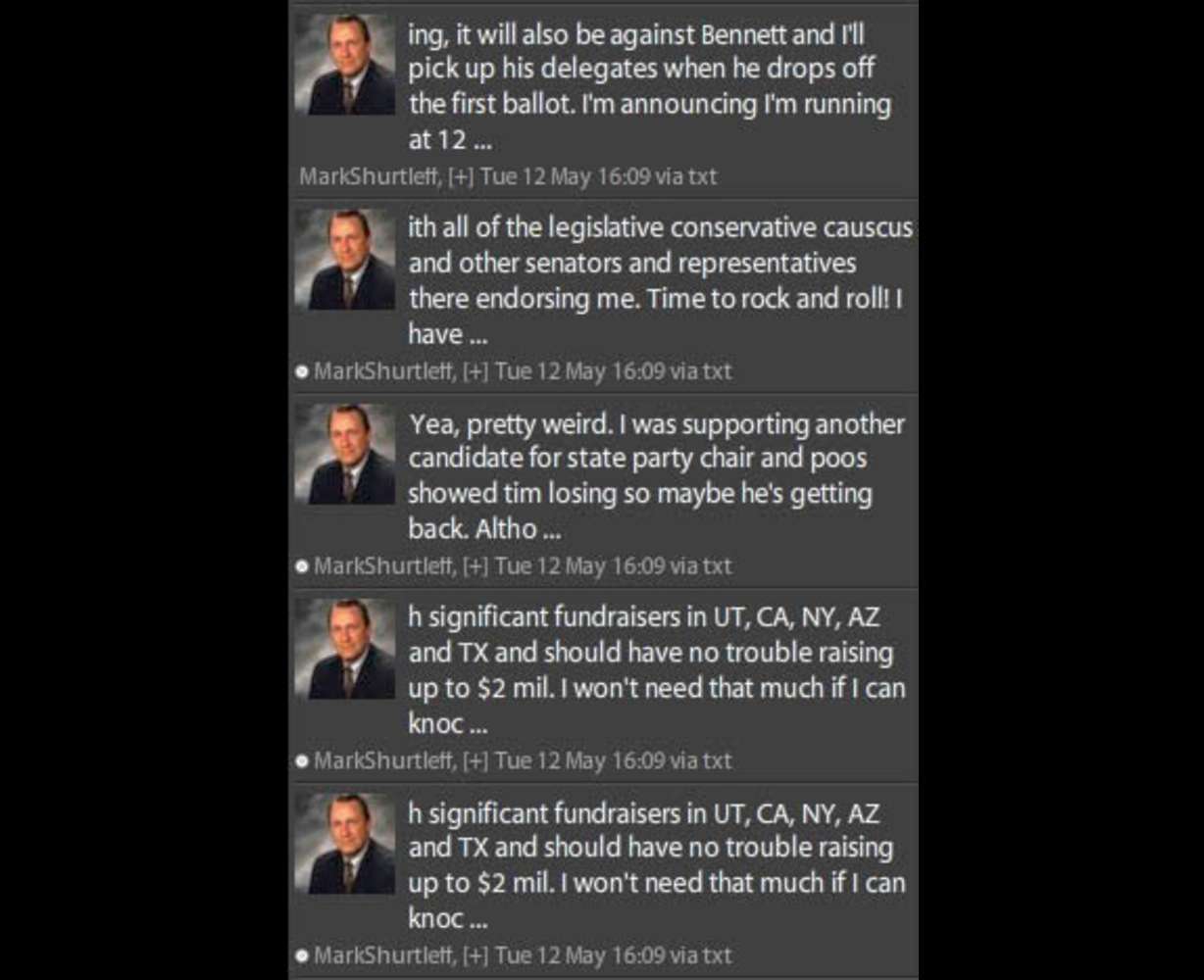 Shurtleff wrote that it is "time to rock and roll." Within minutes of posting the messages -- the tweets -- were removed from Shurtleff's Twitter page.
In one tweet, Shurtleff wrote, "I just realized that I was responding to a text from u. I'm going to pull it off immediately."
A few seconds letter, Shurtleff wrote "Take down my last reply to Ben Cannati too. His tweets to me say "direct from Ben, so I thought my reply would go directly back just to him."
For the uninitiated, Twitter is a microblogging Web site that allows users to post 140 character messages. The messages can be posted and received via text messages from cell phones.
After realizing the messages had been picked up by reporters, Shurtleff wrote "Thinking of 'texting while drowsy' law after private 1AM tweet went public. Formal announcement on 5/20 about senate race and tweeting plans."
Shurtleff has used the social networking service along with his Facebook account and a blog to give legal opinions on civil unions and to rail on the Bowl Championship Series, which kept an undefeated University of Utah football team from playing in the national title game.
The series of tweets began appearing Tuesday afternoon when Shurtleff mentioned "significant fundraisers in UT, CA, NY, AZ and TX and should have no trouble raising up to $2 mil. I won't need that much if I can knoc ...," the message said before truncating.
It wasn't immediately clear whether Shurtleff meant he, or Bennett, should have no trouble raising $2 million.
Saying he won't need that much money, Shurtleff was likely referring to the state's political convention system. Candidates here typically don't need to raise as much money as they do in other states if they can appeal to a small pool of conservative delegates and win the Republican nomination at the party convention, avoiding a primary and the costly advertisements that come with them.
In Utah, whoever wins the Republican nomination is for all intents guaranteed victory in U.S. Senate elections.
Shurtleff's spokesman, Paul Murphy, said the tweets came in response to a text message he had sent about Tim Bridgewater, who had been considering a run for state GOP Party chairman. On Tuesday, Bridgewater sent out a message via Twitter saying he was dropping out of that race and would "explore a run for federal office next year."
"In meeting with the delegates across the state it is clear there is a desire for change. Nxt yr voters will hv good choices," Bridgewater wrote.
Bennett's seat is the only federal office in Utah up for election next year.
Shurtleff wrote, "Yea, pretty weird. I was supporting another candidate for state party chair and poos show tim losing so maybe he's getting back."
"It will also be against Bennett and I'll pick up his delegates when he drops off the first ballot. I'm announcing I'm running at 12," another message said before cutting off.
Shurtleff is in Israel on a trade mission and an e-mail sent to him seeking comment was not immediately returned Tuesday.
Murphy said Shurtleff was able to find some humor in the situation.
"Some tweets are supposed to be fleeting, but some apparently do stay," Murphy said. "I think it's funny. The attorney general has made a point of being transparent, and he's taken it to new levels."
(Copyright 2009 by The Associated Press. All Rights Reserved.)
×
Related stories
Most recent Politics stories