Estimated read time: 4-5 minutes
This archived news story is available only for your personal, non-commercial use. Information in the story may be outdated or superseded by additional information. Reading or replaying the story in its archived form does not constitute a republication of the story.
SALT LAKE CITY -- Utah Attorney General Mark Shurtleff is no longer seeking the GOP nomination for U.S. Senate. Shurtleff was considered a top Republican challenger to Sen. Bob Bennett.
Shurtleff suspends Senate campaign
The announcement came as a surprise on the Doug Wright Show on KSL Newsradio Wednesday morning.
In an emotional statement, Shurtleff told listeners he was "suspending his campaign," and spoke of devoting more time to helping his daughter who suffers from depression and has recently been placed in a treatment center.
"Even though she's in a facility, the participation we have to do, the things we have to accomplish so she can progress and get well necessitates a substantial amount of time. So I am suspending my Senate campaign."
Shurtleff to concentrate on his daughter
The attorney general said his daughter Danielle, who is 17, began spiraling out of control this fall, once school started.
He and his daughter have spoken publicly to school groups about depression and mental health problems in the past.
He said, "I'm out of the race, and I don't expect to be getting back in. My daughter's treatment and the course that's going to occur is going to be at least a year."
Shurtleff said he and his wife would need to attend numerous counseling sessions.
"We've learned that the program requires, absolutely, for her to progress in her steps, to get better, is that we have a requirement as parents to do quite a bit of our own training and counseling, and I need to be there when she gets out, absolutely. I just couldn't do both, and I just had to choose family this time."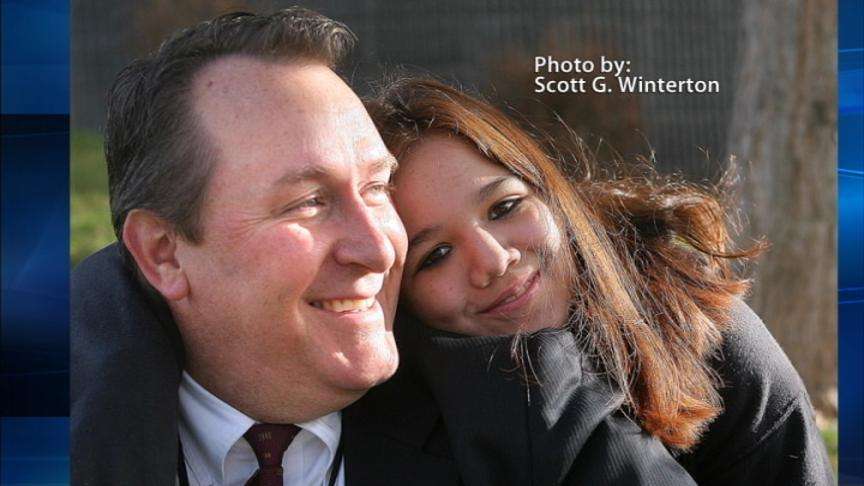 Impact on the race
Kirk Jowers, director of the Hinckley Institute of Politics, said, "Shurtleff was obviously a huge figure in this race, and it sucks up all of the oxygen from the press and the public interest. So the other challengers are hoping they can fill the vacuum. My suspicion would be that none of them can."
Already, conservative Republicans Tim Bridgewater and Cherilyn Eagar have announced a challenge to Bennett.
But behind the scenes, others are named as having their eye on the race. Merit Medical CEO Fred Lampropoulous has said he is interested. Attorney Mike Lee reportedly has politcal aspirations that could include a run for Senate. And, Congressman Jason Chaffetz told KSL News he "hasn't closed the door" on a run against Bennett.
The GOP incumbent, Sen. Bob Bennett issued a statement saying: "Mark Shurtleff clearly has his priorities straight, putting his family first. I am distressed to hear this new information about Mark's daughter and wish him and his family the very best as they work through this challenge."
Eagar also issued a statement that reads in part: "I have put a call into Mr. Shurtleff to express my best wishes to him and his family and am awaiting his reply. I have complete respect for Mr. Shurtleff's decision and for the fact that he got in early, so that the voters could get to know him. A U.S. Senate race is a serious commitment, one that is not made at the last minute."
As for Democrats, local businessman Sam Granato is campaigning for Bennett's seat. The only other name we're hearing is Rep. Jim Matheson, but he isn't saying what he wants to do yet.
Shurtleff will continue to serve as attorney general
"I want to thank the thousands of supporters who have been by my side thus far. I ask for your prayers for my family and specifically my daughter. We don't think our trials are any harder than rest of the world's, but right now, we could use a little extra help," Shurtleff said.
"This announcement comes with sorrow because I do want to serve my country, and I do believe both political parties have put this nation in grave danger by spending so foolishly that our children and grandchildren will have a difficult time recovering," Shurtleff said.
He said he eventually expected to make another run for higher office. He said, "Down the road, when Danielle is healthy, and I'm talking a year or two down the road, then ... I still have the desire to serve."
Shurtleff has served as Utah's attorney general since 2001.
Bennett is a three-term incumbent who took office in 1992, when Sen. Jake Garn declined to run for a fourth term.
------
Story compiled with contributions from John Daley, Richard Piatt and Becky Bruce.
×
Related stories
Most recent Politics stories