Estimated read time: 2-3 minutes
This archived news story is available only for your personal, non-commercial use. Information in the story may be outdated or superseded by additional information. Reading or replaying the story in its archived form does not constitute a republication of the story.
SALT LAKE CITY -- Salt Lake City's chief prosecutor jumped into the race for Salt Lake County District Attorney Thursday.
Democrat Sim Gill blasted Republican incumbent Lohra Miller, promising to restore public trust in the office.
These two faced off against each other in a close race four years ago, and Gill says he's looking forward to a rematch.
Gill kicked off his campaign in front of the downtown county DA's office. He promised to save taxpayer money by running the office more efficiently, holding criminals accountable and giving justice to victims.
Using posters with headlines regarding controversies involving the current county district attorney as a backdrop, Gill says Miller has wasted taxpayer dollars, filed frivolous lawsuits and pursued personal vendettas -- in particular in the firing of former Chief Prosecutor Kent Morgan.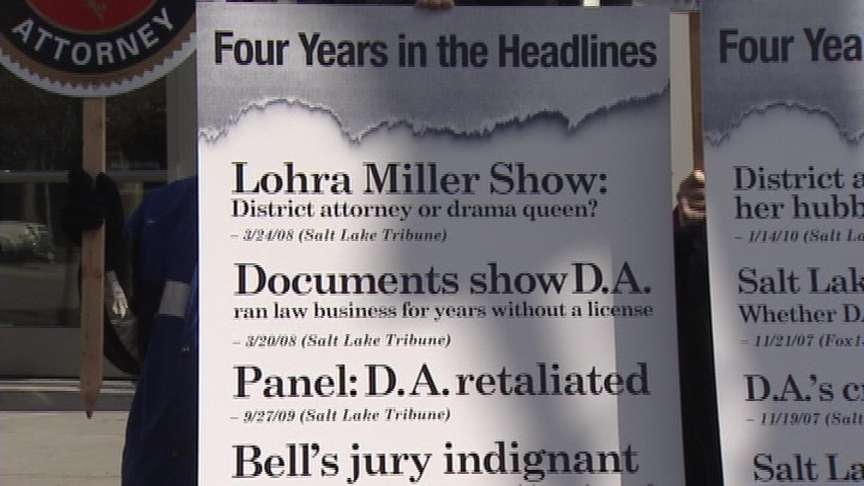 "This office does not belong to any one elected official, it belongs to the people of Salt Lake County. It belongs to the professionals that work there," says Gill.
Introducing Gill Thursday was former longtime prosecutor Bud Ellett, a Republican who backed Miller in the earlier race who now says he backs Gill.
"Her micromanagement of that office, I think, the morale is bad, she's lost good attorneys. I think her pursuit of Kent Morgan has been tragic. Kent's probably the premier prosecutor in this state," says Ellett.
Gill must first win the Democratic nomination against attorney Greg Skordas.
"I like Sim a lot. I like Lohra, too," said Skordas. "I really can't find any difference between the two. Both are career government employees with substantial experience prosecuting traffic and misdemeanor offenses. Both seem to spend every tax dollar they can get.
"I have run a successful private practice where I have had to be responsible for client's monies. I have taken on big civil and criminal cases and have won them. I also have worked closely teaching police, and representing them whenever they are involved in the "use of force." I have also represented many victims.
"I would say to any voter; Ask a police officer, who would you want prosecuting or even overseeing your case? I would ask the same question of anyone in the criminal justice system. Those are the people asking me to run."
E-mail: jdaley@ksl.com
×
Related links
Related stories
Most recent Politics stories