Estimated read time: 2-3 minutes
This archived news story is available only for your personal, non-commercial use. Information in the story may be outdated or superseded by additional information. Reading or replaying the story in its archived form does not constitute a republication of the story.
SALT LAKE CITY -- Despite the present tough economy, the governor sees better days ahead for the Beehive State. Gov. Gary Herbert delivered his first State of the State address Tuesday night to a packed House Chamber on Capitol Hill.
Though the state is facing a daunting $700 million budget gap, Herbert didn't spend much time dwelling on cuts and tough decisions to come. Instead, his main message was that things are starting to turn around.
"Although we continue to undergo tough economic times, our state -- at its core -- is strong. The economic tide is turning," Herbert said.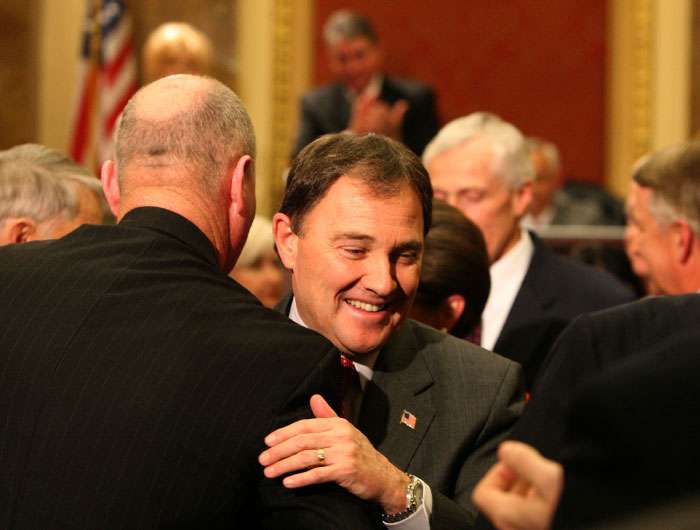 As proof, he said, state tax revenues now may be turning too.
"For the first time in three years, we are expecting an increase in revenue for the upcoming fiscal year," Herbert said.
The governor said a balanced and responsible state budget will provide adequate funding for key government services.
First and foremost, we must protect public and higher education," he said.
Herbert said the state must balance the budget without stifling economic growth.
"I strongly believe the best thing we can do for our state, our citizens and our economic recovery is to exercise continued fiscal restraint and to not raise taxes," Herbert said.
The governor thinks states, not the federal government, should lead on health care reform.
"The continued encroachment of the federal government into our business, our lives and our pocketbooks must be challenged," he said.
Reaction, predictably, was a bit mixed.
"I actually give this governor a fairly high mark," said House Speaker David Clark, R-Santa Clara. "I think what he touched upon were practical, straight forward approaches; things we can lock arms on the executive and legislative side and work together."
"Not to throw ants on the picnic -- and I really do applaud optimism -- but in reality, I think there are some really meaty issues we need to address," said Senate Minority Leader Pat Jones, D-Holladay.
One major debate ahead is over just how deep cuts should be, and Democrats stressed this in their response. An example is education: Democrats wonder if cuts made too deep will damage the entire education system and, in the long run, hurt economic vitality.
E-mail: jdaley@ksl.com
×
Photos
Most recent Politics stories