Estimated read time: 2-3 minutes
This archived news story is available only for your personal, non-commercial use. Information in the story may be outdated or superseded by additional information. Reading or replaying the story in its archived form does not constitute a republication of the story.
SALT LAKE CITY -- A bill that would have changed sex education in schools by providing information about contraception and avoiding sexually transmitted diseases died in the Legislature.
Senate Bill 54 would have given teachers training in talking about use of contraception. Abstinence still would have been presented as the ultimate way to prevent both disease and pregnancy.
However, some felt the bill was too controversial. A Senate committee voted it down without debate on Monday.
The bill's sponsor, Sen. Steve Urquhart, R-St. George, had been negotiating fine points of the education bill. The bill would allow for frank talk about contraceptives and would have allowed parents the option to 'opt in' or 'opt out' of that education.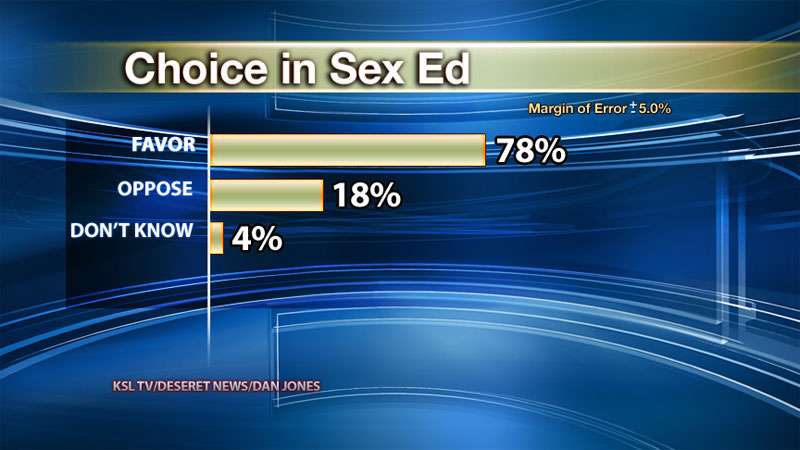 Ultimately, what it came down to was the teachers' ability to answer questions from students about contraception.
That's a sticking point for conservative groups, like the Utah Eagle Forum. Its members are concerned about encouraging sexual activity.
The Eagle Forum's Gayle Ruzicka said, "It broadened what they would be able to teach about contraception. We want to keep it the way it is. We have a policy to protect the children, and we want to keep it that way."
Those who supported the bill at the Capitol are not alone. An exclusive statewide Dan Jones poll shows 78 percent of Utahns favor greater choices in the way sex ed is taught in public schools. Only 18 percent opposed that.
Many of those who want to broaden the conversation are worried about sexually transmitted diseases among teens, which are skyrocketing.
Liz Zentner of the Utah PTA said, "So many health teachers are afraid to say anything about contraception because they are afraid they'll be looked at as advocating or encouraging, when all they're doing is educating."
Chlamydia Rates in Utah
#1 sexually transmitted disease
Five new cases every day
5,000 new cases every year

60% under age 24
30% under age 19
- Planned Parenthood of Utah
Studies from Planned Parenthood of Utah show that Chlamydia is the No. 1 communicable disease in the state with five new cases reported every day and 5,000 new cases every year.
Of those, 60 percent involve people under the age of 24; 30 percent of new cases are associated with those under the age of 19.
Supporters of the bill were surprised and disappointed it died because they had attempted a compromise on it. Also, they felt it was an opportunity to give parents more control over what is taught, district by district.
There is another, similar bill that seeks to do the same thing in the House right now, but its fate is uncertain.
E-mail: rpiatt@ksl.com
×
Related stories