Estimated read time: 2-3 minutes
This archived news story is available only for your personal, non-commercial use. Information in the story may be outdated or superseded by additional information. Reading or replaying the story in its archived form does not constitute a republication of the story.
Alex Cabrero ReportingThey fight for food and water. Now victims of Katrina fight for gas.
It's been five days since Hurricane Katrina came down hard on the Gulf Coast. Here in Slidell, Louisiana, the mess is nowhere near being cleaned up. It's not a pressing need right now though. Gas is a pressing need, and it's hard to find.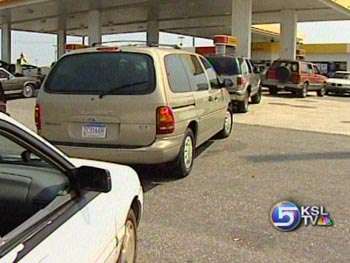 As if the Gulf Coast didn't have enough problems, now there's barely any gas.
Lisa Dunagan, Mobile, Ala.: "It's crazy. It's worse than I've ever seen it, even in Frederick it wasn't this bad."
But Frederick is no Katrina, which is why Lisa is waiting in line.
Lisa Dunagan: "We're over here now trying to fill up the gas jug, just to keep the generator going.
She's not alone. A gas station in Mobile, Alabama had pumps just for those filling up cans.
Nancy Call, Ocean Springs, Miss.: "And they're kind of being selfish with it; they're filling all these cans when all we're trying to do is get enough to get to a motel."
Everybody is at wits end. Imagine waiting two hours in line only to be next when the gas runs out.
Gerald McGee, Morris Point, Miss.: "I feel that more could be done than what's really being done at this point in time, you know what I'm saying."
The situation is getting so bad, Alabama state troopers were called in to direct traffic and keep the peace. Only a handful of stations along the coast have gas. We found one that doesn't, but still had people waiting because they heard a tanker may be on its way.
Ronnie Callender, Mobile, Ala.: "Well, I mean everybody's just gotta be patient. We had, you know, a very serious catastrophe and people just need to be patient."
Ronnie Callender has the right attitude, then again, he has fuel, something many people are still waiting for.
Terrible is just one word you can use to describe this situation. The one word that is spreading is hope. It seems sure it'll take a long time to clean up the mess, but there's always hope it could happen sooner.
×
Most recent Utah stories