Estimated read time: 2-3 minutes
This archived news story is available only for your personal, non-commercial use. Information in the story may be outdated or superseded by additional information. Reading or replaying the story in its archived form does not constitute a republication of the story.
KSL Team Coverage We finally get a glimpse of what downtown Salt Lake City might look like in the next 40 years.
The city's master plan is dubbed "Downtown Rising." On Wednesday the plans were revealed to the public, but they're already receiving approval.
On Tuesday the Salt Lake City and Salt Lake County Councils previewed the 40-year project plan, and they approve.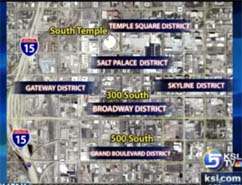 The blueprint they saw intertwines all aspects of the city and landscape. It includes six geographical districts: the "Broadway," "Temple Square," "Gateway," "Salt Palace," "Skyline" and the "Grand Boulevard" districts.
Each has its own theme. The Broadway district, for example, will be geared toward the arts and entertainment. The Temple Square district will focus on the LDS Church.
Businesses will be encouraged to set up shop in the areas they mesh with the best.
Another zone, called "University Boulevard," will extend east along 400 South to the University of Utah. It's intended to sell the capital as a "university city."
The plan creates a coordinated transportation plan, adding new TRAX routes and commuter rails and making the city's entry points more attractive.
There are also designs for landscaping city streets to promote walking.
There will be eight signature zones, including a regional rail network, a "green loop" connecting the Wasatch Mountains to the Jordan River Parkway, a permanent public market and a sports and fitness complex.
The response from city leaders was overwhelmingly positive.
Lane Beattie, with the Salt Lake Chamber, said, "Some of it is going to come together very specifically in the not-too-distant future, but a lot of it is visionary."
Salt Lake City Mayor Rocky Anderson said, "What we're headed for will be a model for cities around the world. That only happens when you plan for the future."
"Every state needs a heart and soul," Governor Jon Huntsman told the crowd. "Every state needs a capitol city. This is our capitol city. This is our heart and soul. It's great to get accolades as being the most dynamic economy now in the country."
The plan is not to build everything at once, but to make suggestions and leave room for future needs.
For more information, visit the Salt Lake Chamber link to the right.
×
Related links
Most recent Utah stories