Estimated read time: 2-3 minutes
This archived news story is available only for your personal, non-commercial use. Information in the story may be outdated or superseded by additional information. Reading or replaying the story in its archived form does not constitute a republication of the story.
SALT LAKE CITY -- New towers are rising from the once and future core of downtown Salt Lake City. Amidst a recession that has brought most construction to a halt, three blocks in the city center are buzzing with the sounds of development.
"It's development that, I think, will produce the kind of vibrant downtown that we want, and that many people remember from many decades ago," says Salt Lake City Mayor Ralph Becker.
Sunday Edition:
Those decades ago, people filled Salt Lake City's sidewalks all day and into the night. Then in the 1970s, big indoor malls came to Main Street -- two, right across from each other. Sidewalk traffic dwindled, and street-front businesses died.
As retail patterns changed over the next 30 years, the malls themselves lost major tenants. Like many other urban centers, downtown Salt Lake began a slide into decay.
Then, in October 2006, to a room packed with civic leaders, businessmen and the curious, The Church of Jesus Christ of Latter-day Saints unveiled a plan for the redevelopment of 20 acres it owns in downtown.
"What we are talking about are design plans of how the project fits together: Where the retail is going to be. How does it interface with the residential? Where are the office towers? How will the parking be available?" said Bishop H. David Burton, Presiding Bishop of the LDS Church.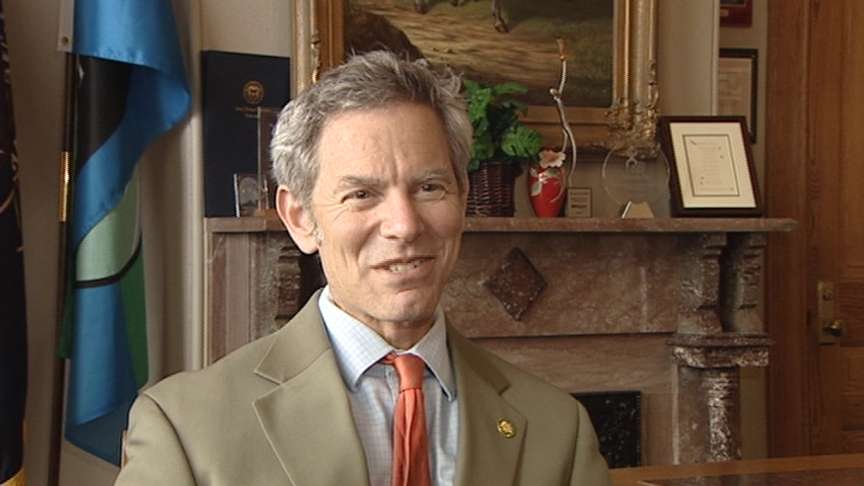 Within weeks, walls started tumbling. The downtown known to a generation has been gone for three years.
But now, just count the cranes. Mayor Ralph Becker, a professional planner, is almost giddy anticipating his downtown's rebirth.
"City Creek really is, it's almost a new form of development for downtown Salt Lake City that captures a lot of what people loved so much about Salt Lake City in the pre-mall era, and yet reflects what we expect today, in terms of development," Becker says.
This enormous investment, estimated by observers to exceed $1 billion, is not government-sponsored urban renewal. It is wholly funded by a church that owns the downtown property.
"I see the LDS Church as, not only a critical partner for us in terms of success, but really sharing a lot of the same vision for the future of our city," Becker says.
That vision of a city the mayor has sounds a lot like the Salt Lake some of us remember.
"Well, I think that it's to have a 24-hour city in the downtown. It's an area where people live. It's an area where people work. It's an area where people visit for their entertainment, and it's an area that it easy to get to. It's an area that's easy to move around in," Becker says.
"It's an area where you have a feeling of energy and excitement, which only comes from people being on the streets," Becker continues. "So, to me, a downtown is truly a gathering place, the gathering place for a region."
E-mail: blindsay@ksl.com
×
Related links
Related stories
Most recent Utah stories