Estimated read time: 7-8 minutes
This archived news story is available only for your personal, non-commercial use. Information in the story may be outdated or superseded by additional information. Reading or replaying the story in its archived form does not constitute a republication of the story.
[![](/icons/picts_24.gif) See Wednesday's Photo Gallery](javascript:openScript('?sid=100427&nid=281',590,600))
[![](/icons/picts_24.gif) See Tuesday's Photo Gallery](javascript:openScript('?sid=100057&nid=281',590,600))
[![](/icons/picts_24.gif) See Monday's Photo Gallery](javascript:openScript('?sid=99675&nid=281',590,600))
By ADAM NOSSITER
Associated Press Writer
NEW ORLEANS (AP) - With thousands feared drowned in what could be America's deadliest natural disaster in a century, New Orleans' leaders all but surrendered the streets to floodwaters Wednesday and began turning out the lights on the ruined city _ perhaps for months.
Looting spiraled so out of control that Mayor Ray Nagin ordered virtually the entire police force to abandon search-and-rescue efforts and focus on the brazen packs of thieves who have turned increasingly hostile.
Nagin called for an all-out evacuation of the city's remaining residents. Asked how many people died, he said: "Minimum, hundreds. Most likely, thousands."
With most of the city under water, Army engineers struggled to plug New Orleans' breached levees with giant sandbags and concrete barriers, and authorities drew up plans to clear out the tens of thousands of remaining people and practically abandon the below-sea-level city. Most of the evacuees _ including thousands now suffering in the hot and muggy Superdome _ will be moved to the Astrodome in Houston, 350 miles away.
There will be a "total evacuation of the city. We have to. The city will not be functional for two or three months," Nagin said. And he said people would not be allowed back into their homes for at least a month or two.
If the mayor's death-toll estimate holds true, it would make Katrina the worst natural disaster in the United States since at least the 1906 San Francisco earthquake and fire, which have blamed for anywhere from about 500 to 6,000 deaths. Katrina would also be the nation's deadliest hurricane since 1900, when a storm in Galveston, Texas, killed between 6,000 and 12,000 people.
In Mississippi, bodies are starting to pile up at the morgue in hard-hit Harrison County. Forty corpses have brought to the morgue already, and officials expect the death toll in the county to climb well above 100.
President Bush flew over New Orleans and parts of Mississippi's hurricane-blasted coastline in Air Force One. Turning to his aides, he said: "It's totally wiped out. ... It's devastating, it's got to be doubly devastating on the ground."
"We're dealing with one of the worst national disasters in our nation's history," Bush said later in a televised address from the White House, which most victims could not see because power remains out to 1 million Gulf Coast residents.
The federal government dispatched helicopters, warships and elite SEAL water-rescue teams in one of the biggest relief operations in U.S. history, aimed at plucking residents from rooftops in the last of the "golden 72 hours" rescuers say is crucial to saving lives.
As fires burned from broken natural-gas mains, the skies above the city buzzed with National Guard and Coast Guard helicopters frantically dropping baskets to roofs where victims had been stranded since the storm roared in with a 145-mph fury Monday. Atop one apartment building, two children held up a giant sign scrawled with the words: "Help us!"
Looters used garbage cans and inflatable mattresses to float away with food, blue jeans, tennis shoes, TV sets _ even guns. Outside one pharmacy, thieves commandeered a forklift and used it to push up the storm shutters and break through the glass. The driver of a nursing-home bus surrendered the vehicle to thugs after being threatened.
Police said their first priority remained saving lives, and mostly just stood by and watched the looting. But Nagin later said the looting had gotten so bad that stopping the thieves became the top priority for the police department.
"They are starting to get closer to heavily populated areas _ hotels, hospitals, and we're going to stop it right now," Nagin said in a statement to The Associated Press.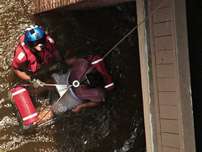 Hundreds of people wandered up and down shattered Interstate 10 _ the only major freeway leading into New Orleans from the east _ pushing shopping carts, laundry racks, anything they could find to carry their belongings.
On some of the few roads that were still open, people waved at passing cars with empty water jugs, begging for relief. Hundreds of people appeared to have spent the night on a crippled highway.
Starting Thursday, authorities planned to move at least 25,000 storm refugees to the Astrodome in a vast convoy of some 500 buses provided by the federal government. With the air-conditioning knocked out, the Superdome has become stifling, its toilets are broken and there is nowhere for anyone to bathe.
Nagin, whose pre-hurricane evacuation order got most of his city of a half a million out of harm's way, estimated 50,000 to 100,000 people remained, and said that 14,000 to 15,000 a day could be evacuated in ensuing convoys.
"We have to," Nagin said. "It's not living conditions."
He also expressed concern about people staying in the water: "People walking in that water with those dead bodies, it can get in your pores, you don't have to drink it."
In addition to the Astrodome solution, the Federal Emergency Management Agency was considering putting people on cruise ships, in tent cities, mobile home parks, and so-called floating dormitories.
The floodwaters streamed into the city's streets from two levee breaks near Lake Pontchartrain a day after New Orleans thought it had escaped catastrophic damage from Katrina. The floodwaters covered 80 percent of the city, in some areas 20 feet deep, in a reddish-brown soup of sewage, gasoline and garbage.
Around midday, officials with the state and the Army Corps of Engineers said the water levels between the city and Lake Pontchartrain had equalized, and water had stopped spilling into New Orleans, and even appeared to be falling. But the danger was far from over.
The Army Corps of Engineers said it planned to use heavy-duty Chinook helicopters to drop 15,000-pound bags of sand and stone as early as Wednesday night into the 500-foot gap in the failed floodwall.
But the agency said it was having trouble getting the sandbags and dozens of 15-foot highway barriers to the site because the city's waterways were blocked by loose barges, boats and large debris.
In Washington, the Bush administration decided to release crude oil from the federal petroleum reserves after Katrina knocked out 95 percent of the Gulf of Mexico's output. But because of the disruptions and damage to the refineries, gasoline prices surged above $3 a gallon in many parts of the country.
The death toll has reached at least 110 in Mississippi alone. But the full magnitude of the disaster had been unclear for days _ in part, because some areas in both coastal Mississippi and New Orleans are still unreachable, but also because authorities' first priority has been the living.
In Mississippi, for example, ambulances roamed through the passable streets of devastated places such as Biloxi, Gulfport, Waveland and Bay St. Louis, in some cases speeding past corpses in hopes of saving people trapped in flooded and crumbled buildings.
State officials said Nagin's guess of thousands dead seemed plausible.
Lt. Kevin Cowan of the state Office of Emergency Preparedness said it is too soon to say with any accuracy how many died. But he noted that since thousands of people had been rescued from roofs and attics, it could be assumed that there were lots of others who were not saved.
"You have a limited number of resources, for an unknown number of evacuees. It's already been several days. You've had reports there are casualties. You all can do the math," he said.
On the flooded streets of New Orleans, dozens of fishermen from up to 200 miles away floated in on caravans of boats to pull residents out.
One of those rescued was 40-year-old Kevin Montgomery, who spent three days shuttling between the attic of a one-story home and a canopy he built on the roof.
Every once in a while, Mongtomery would see a body float by. But he cannot swim and had to fight the urge to wade in and tie them down.
"It was terrible," he said. "All I could do was pass them by and hope that God takes care of the rest of that."
___
Associated Press reporters Holbrook Mohr, Mary Foster, Allen G. Breed, Cain Burdeau and Jay Reeves contributed to this report.
(Copyright 2005 The Associated Press. All rights reserved. This material may not be published, broadcast, rewritten or redistributed.)
×
Related links
Most recent News stories