Estimated read time: 2-3 minutes
This archived news story is available only for your personal, non-commercial use. Information in the story may be outdated or superseded by additional information. Reading or replaying the story in its archived form does not constitute a republication of the story.
SEVIER COUNTY -- A Kansas man is in jail, accused of hijacking a tour bus late Monday night and causing it to crash. It happened just outside of Richfield in Sevier County on Interstate 70.
According to investigators, Santos Antonio Munoz-Gonzalez, of Springdale, Kan., stood up and ran to the front of the Greyhound bus. He then kicked the bus driver in the side of the head and caused the bus driver to lose control of the bus. The driver veered through the median and crossed into oncoming traffic in the eastbound lanes of I-70.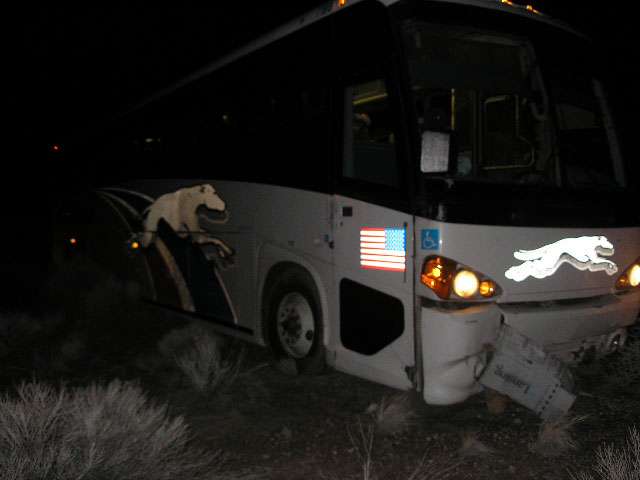 Right now, it's believed the hijacker suffered some sort of a mental breakdown.
"He was saying things that didn't make any sense, talking about a kidnapping and people trying to kill him," said Lt. Lynn McAfee of the Utah Highway Patrol. "Then he went up to the driver, who apparently he felt was a threat to him based on things that probably weren't really going on, and he assaulted the driver."
The bus finally came to a stop after crashing through the freeway fence. The suspect fled on foot.
Ambulances were dispatched to the scene. The driver and five passengers were all taken to the hospital for treatment.
"This could have been really bad. The fact that [the driver] kept it upright I think really minimized the injuries," McAfee said.
UHP troopers later tracked down the hijacker, who was found hiding in the rafters of a garage in the town of Joseph.
Munoz-Gonzalez was booked into the Sevier County Jail on charges of bus jacking, criminal trespass and 26 counts of aggravated assault.
The El Salvador native is also being held on an immigration violation, because he is believed to be in the country illegally.
Initial drug tests came back negative.
All of the victims have now been released from the hospital.
Another Greyhound bus was sent from Salt Lake and the trip continued as planned.
E-mail: spenrod@ksl.com
×
Photos