Estimated read time: 2-3 minutes
This archived news story is available only for your personal, non-commercial use. Information in the story may be outdated or superseded by additional information. Reading or replaying the story in its archived form does not constitute a republication of the story.
Amanda Butterfield reportingAfter more than a week of searching, Salt Lake police believe they've found those responsible for the shooting death of a woman at the Dream Inn motel.
Police caught them after a pretty routine traffic stop.
Police made the arrests early this morning thanks to the sharp eye of one of its officers.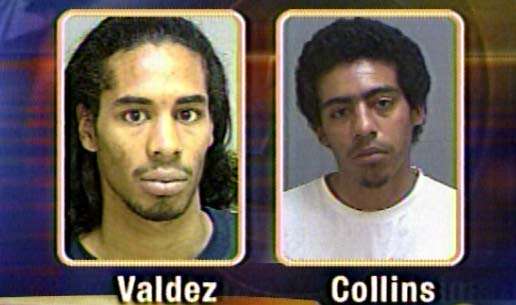 Members of the metro gang unit first saw the homicide suspect, so they followed the car he was riding in. When the driver ran a stop light, they pulled them over.
Inside the car were two homicide suspects police have been actively looking for, whom they believe were involved in the death of a pregnant woman earlier this month.
Sgt. Rick Findlay/ Salt Lake City Police Dept.: "It was all conducted very low key. They didn't attempt to flee. The arrest was made without incident."
The two suspects, Lawrence Valdez and Robert Collins, have had a warrant for their arrest, and once they were arrested were taken straight to jail.
Sgt. Findlay: "It's been interagency effort to locate these, with information sharing across the board."
Police believe the two killed or were involved in the murder of Darla WoundedHead at the Dream Inn motel about a week and a half ago. Witnesses say Woundedhead was shot after three men attempted to rob occupants in a room. They fired as they were leaving the motel.
Woundedhead died, her baby was delivered through an emergency c-section and has been on life support ever since.
The baby was born with drugs in its system, and Woundedhead had two other children that were also born with drugs in their systems.
The baby is in the custody of the Department of Child and Family Services.
Carol Sisco/DCFS: "She's still in critical condition, she slightly more stable, gained weight, has an Aunt and Uncle visiting with her just about everyday."
It has not been decided whether or not relatives will get custody of the little girl, or a man who claims to be the baby's father.
Carol Sisco/DCFS: "We're still talking to members of moms tribe about whether they want to take custody or not."
DCFS has offered to pay for paternity test for the man who says he is baby Woundedheads father, but he hasn't taken it yet.
In early September a judge is expected to hear more on the case to help decide who will get custody of the baby.
×
Most recent Utah stories