Estimated read time: 2-3 minutes
This archived news story is available only for your personal, non-commercial use. Information in the story may be outdated or superseded by additional information. Reading or replaying the story in its archived form does not constitute a republication of the story.
Ed Yeates reportingThere's a bittersweet ending to the Peter Jensen story.
He's the young man from Cedar City who had almost continual muscle and vocal spasms from one of the worst cases ever of Tourette syndrome.
Well, not anymore! And Peter calls it his miracle.
Without warning, Peter would break into violent muscle movements. The spasms in his voice also made it almost impossible to carry on a conversation.
Food would shake from his fork or spoon. He was losing weight, and Tourette was literally wearing out his body.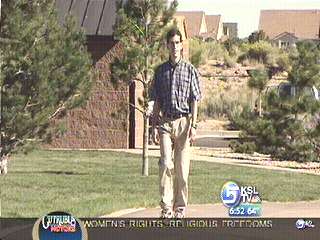 But look at Peter now. After 30 years of a sporadic and erractic body in motion-- peace and grace.
In June, he became the first candidate for a clinical trial of an experimental implant. After scans of his brain and precision measurements that would guide surgeons to a target deep inside the brain, Peter was ready.
Sedated but conscious so he could respond, the experiment began.
From tics and spasms, to movements that appeared clean and coordinated. Eventually the implanted electrodes, connected under the skin to pacemaker devices on each side of his chest, were fined tuned, adjusted, and turned on permanently.
"We're thrilled. It worked," said the surgical team at University Hospital in Cleveland.
Now, some two months after the implant, Peter comes to Discovery Park in Cedar City to play with his kids, something he could never do before."
Peter Jensen: "It was a miracle."
Jump, move about freely, eat normally, and talk without any vocal interruptions. Who could have imagined the turnaround?
Peter Jensen: "I'm gaining it back. I've lost a lot of regular strength, normal muscle use, and so even walking up hill takes its toll if I'm not used to it as much. But I'm getting better everyday."
But not everything is better. And that, unfortunately, is the bitter side of our story. Peter became psychotic the day before he was supposed to come home - a triggered mental illness doctors believe had nothing to do with the implant.
Roshana Jensen, Peter's Wife: "They're thinking it may have either been a preexisting condition, or that it was the stress of just not being able to handle the big change in life."
Peter's in a halfway house, on medication and undergoing therapy. And, he and his wife Roshana are getting a divorce.
Peter Jensen: "It's difficult. I miss them a lot. I love them dearly."
Hard on Peter, hard on Roshana, hard on the kids - a final chapter nobody expected. But still..
Peter Jensen: "Sure there are things that are discouraging. But I'm never going to lose hope."
NBC Dateline, which furnished video of Peter's implant in Cleveland, will have an in-depth look at his story later this year.
×
Most recent Utah stories