SALT LAKE CITY — Candidates have a week to declare their candidacy for Rep. Jason Chaffetz's soon-to-be-vacant 3rd District congressional seat for a November special election that will include an August primary.
Lt. Gov. Spencer Cox announced details of the process for the special election Friday, a day after the congressman announced his decision to leave office June 30 for a private sector position, believed to be at Fox News.
Cox downplayed the threat of legal action over the election during a news conference despite concerns raised by state lawmakers that only they, not the governor, have the constitutional authority to determine the process.
"In this job, we get sued a lot it turns out," said Cox, who oversees elections as lieutenant governor. "Our job is to run an election, and the attorneys will deal with anything that comes together" as a legal challenge.
Gov. Gary Herbert called the special election via a proclamation that spells out that state law gives him the ability to call a statewide special election "for any purpose authorized by law" and designates the lieutenant governor to conduct it.
Republican and Democratic legislative leaders responded by labeling the process put in place by Herbert "an inappropriate breach of his constitutionally defined power" in an op-ed written for UtahPolicy.com.
"Gov. Herbert's decision to call an election without allowing the Legislature to perform its legal and constitutional duty is disappointing and exposes the vacancy election process to unnecessary legal and political risks," the op-ed said.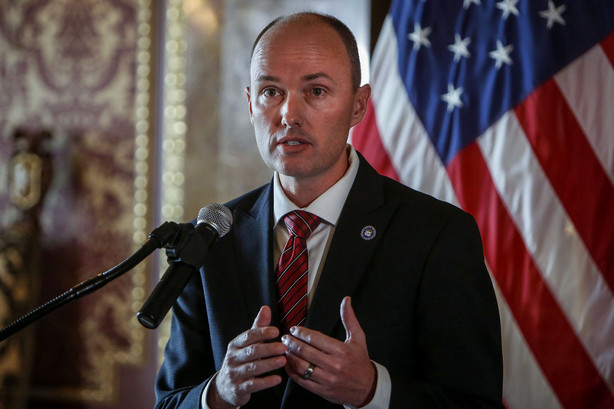 It was written by House Speaker Greg Hughes, R-Draper; Senate President Wayne Niederhauser, R-Sandy; House Minority Leader Brian King, D-Salt Lake City; and Senate Minority Leader Gene Davis, D-Salt Lake City.
On Wednesday, House and Senate Republicans voted in their caucus meetings to tell Herbert to call a special session of the Legislature so they could approve an election process.
Although there was talk at the House Republican caucus about threatening to take the governor to court over the issue, no action was taken. Niederhauser said Senate Republicans, whose caucus meetings are closed, weren't interested in suing.
In the 2017 Legislature, a Senate bill outlining a process similar to a regular election — including allowing candidates to gather voter signatures for a spot on the primary ballot — was changed in the House to let party delegates choose nominees.
Related:
That bill failed to pass in the final hours of the session, and House and Senate Republicans since then have agreed they want a faster process that skips a primary by letting party delegates pick the candidates for the general election ballot.
Cox said the governor opposes that process in favor of getting more Utahns involved in a primary election. But the lieutenant governor said he did not believe the rift with the Legislature would cast a shadow over the legitimacy of the special election.
The timeline released Friday gives candidates an opportunity to gather voter signatures, as well as participate in their party's caucus and convention system, just like a regular election.
The candidate elected in November will serve until Dec. 31, 2018.
Photos
Related Stories
0 Pending Comments
Sorry, we are not accepting new comments on this story, but if you have more to contribute please email
newstip@ksl.com
Showing of 58 comments
Sorry, we are not accepting new comments on this story, but if you have more to contribute please email
newstip@ksl.com