SALT LAKE CITY — Rising temperatures and a visible snowpack in Utah's mountains have communities along the Wasatch Front keeping a close eye on the rivers and creeks that run through their neighborhoods.
However, National Weather Service hydrologist Brian McInerny is pretty optimistic the state can avoid more serious flooding, like some communities in northern Utah experienced in February.
"What we're going to see are high flows," McInerny said. "We're not expecting any damage at this time, but we are early in the process."
The concern comes from high-elevation snowpack that is still deeper in many places than in the great flood year of 1983.
"This sizable snowpack, compared to 1983, is much larger than we saw," McInerny said. "But the low-elevation snowpack is nonexistent."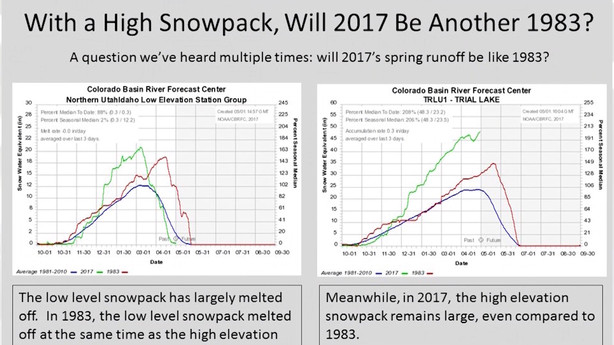 That's because the spring melt in 2017 started a month earlier than the spring melt in 1983. Back then, the low-elevation snowpack hung around, along with with an extra foot of water. "Whereas today, it's devoid of any snow below 7,000 feet — and that's the big difference," McInerny said.
A quick spike in temperatures in '83 melted the low, mid, and high-elevation snowpack all at once, causing the massive flooding.
This year, hydrologists are simply worried about a week or more of high temperatures could bring all of the high elevation and what's left of the mid-elevation snow all at once.
"Things are ramping up right now," McInerny said. "Some of the areas up north are going to get close to flood stage, and we will see how that goes for the rest of the week."
While the potential for flooding in the next six weeks is real, a repeat of 1983 is unlikely for one key reason, McInerny says: "We do not have rivers on the rise."
The South Fork of the Ogden River is expected to reach flood stage early next week; minor flooding expected. Later in the week, McInerney says hydrologists will monitor the Logan River and other Cache Valley waterways.
Related:
In Salt Lake County, Cottonwood Heights city leaders are prepared for potential flooding along Big Cottonwood Creek. They've filled sandbags and put them in neighborhoods that might be vulnerable.
"We don't anticipate in the next 10 days any flooding problems," said Mike Halligan, the city's emergency manager. "But we're trying to be ahead of the curve and prepared just in case the weather warms up a little faster than we anticipated."
Cottonwood Heights has 50 tons of sand ready for volunteers to load into 10,000 to 20,000 sandbags Friday night and Saturday, ready for rapid use.
Contributing: Jordan Ormond
Photos
0 Pending Comments
Sorry, we are not accepting new comments on this story, but if you have more to contribute please email
newstip@ksl.com
Showing of 7 comments
Sorry, we are not accepting new comments on this story, but if you have more to contribute please email
newstip@ksl.com